2023 MONSTER ENERGY FIM SPEEDWAY WORLD CUP SEMI-FINAL DRAW ANNOUNCED
The draw for the 2023 Monster Energy FIM Speedway World Cup Semi-Finals has been revealed as the sport's most historic team competition returns at Wroclaw's iconic Olympic Stadium in Poland from July 25-29.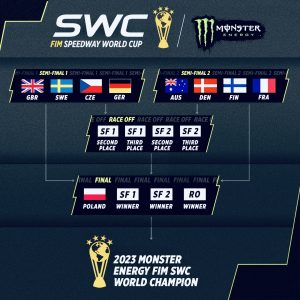 In the year speedway celebrates its 100th anniversary season, the Monster Energy FIM Speedway World Cup returns to the calendar for the first time since 2017.
It will now take place every three years as part of global promoter Warner Bros. Discovery Sports' vision to revive the popular tournament, which will feature four nights of high-stakes speedway to crown the 2023 FIM world team champions.
Eight-time winners Poland are seeded through to the Final on Saturday, July 29 as host nation as they bid to retain the Ove Fundin Trophy, which they lifted at Leszno's Alfred Smoczyk Stadium at the last Monster Energy FIM SWC Final staged six years ago.
They will be joined by the winners of the two Semi-Finals on Tuesday, July 25 and Wednesday, July 26. The line-up will be completed by the winners of the always-epic Race Off, featuring the second and third-placed teams from both Semi-Finals, on Friday, July 28.
Last year's FIM Speedway of Nations world champions Australia and runners-up Great Britain are kept apart by the Semi-Final draw, which sees the Lions get their tournament underway in Semi-Final 1 on July 25, while the Roos launch their bid for a world-title double in Semi-Final 2 on July 26.
Seeking their first world title over a four-team format since 1989, 2021 FIM SON world champions Great Britain come up against three-time FIM SWC winners Sweden, who last lifted the Monster Energy FIM SWC in 2015.
The round also features Czech Republic, who finished an impressive fifth in the 2022 FIM SON, as well as Germany, who are seeking their first FIM SWC Final appearance in the modern era.
Meanwhile, two-time winners Australia begin their quest for a first FIM SWC gold medal since 2002 against Denmark, who have lifted the FIM SWC's Ove Fundin Trophy four times in 2006, 2008, 2012 and 2014.
The second Semi-Final also features Finland, last year's surprise FIM SON finalists, who have never reached the FIM SWC Race Off or Final.
France makes history as their team appears in its first FIM SWC Semi-Final. They complete the Semi-Final 2 field, bidding to build on reaching the 2021 FIM SON Final – the country's first and only appearance in any speedway world team final.
With an incredible week of action and entertainment on and off the track in store, the 2023 Monster Energy FIM SWC's return promises to be an unforgettable week for fans from across Poland and around the world.
TICKETS ON SALE TODAY
Tickets for the Monster Energy FIM SWC go on sale exclusively to Betard Sparta Wroclaw season ticket holders at 14:00 CET today via https://bilety.wts.pl/.
On Wednesday at 14:00 CET, tickets for Semi-Finals 1 and 2 and the Race Off are available for purchase – again via https://bilety.wts.pl/. All fans who buy tickets for the Race Off in this sale will receive the right to pre-purchase Final tickets.
Ticket sales for the Monster Energy FIM SWC Final start on Tuesday, June 6 at 14:00 CET.
*Story courtesy of fimspeedway.com