A LOT OF POSITIVES FOR GB
GREAT BRITAIN co-boss Simon Stead believes there were "a lot of positives" to take from the Rest of the World defeat.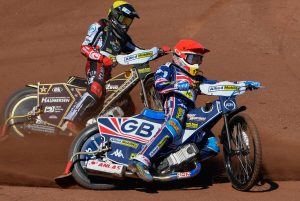 Image Courtesy of George Mutch
Former European Champion Robert Lambert produced an outstanding 16 points in the narrow 48-42 loss at Glasgow's Ashfield Stadium.
It was GB's first-ever defeat in three years in the Global Challenge Series but an excellent workout for the newcomers in the side.
Team boss Simon Stead said: "It had been a difficult build-up to the meeting after losing Dan Bewley, Kyle Howarth and Jordan Palin with injury and illness.
"But that's exactly why test matches are so important, it's vital we can draft in new riders to assess what they can do for Great Britain. It gives a lot of opportunities.
"There were a lot of positives. Robert Lambert was obviously outstanding, he proved to be a fabulous leader on the day and is showing so much class and maturity.
"I felt that Richie Worrall was an excellent addition while Charles Wright battled hard all afternoon. Connor Bailey also will have learnt so much from the experience.
"I also have to give a special mention to Tom Brennan who also showed so much fight. He then spent over an hour after the meeting practising his starts and testing different things. He is working so hard to get things right."
GB were also without three-times World Champion Tai Woffinden, current British Champion Adam Ellis and then lost another key man Bewley the night before the event.
Stead added: "Obviously everyone saw Dan's crash in Poland the previous Friday. We are very thankful he has no long-term damage but it was right that he sat this one out.
"He wanted to ride but it was sensible just to let him rest and he was still a bit sore. With such important meetings coming up for his clubs and country, it was the best decision.
"We probably had three of our best four riders not in the meeting but it was good to look at Worrall, Wright and Craig Cook who have not featured for a while.
"We have a five-man World Cup team to think about for 2023 and there will be places up for grabs.
"It was an excellent occasion at Glasgow. The venue and racing was sensational on a fantastic racetrack. That is great credit to the club and our partners Allied Mobility."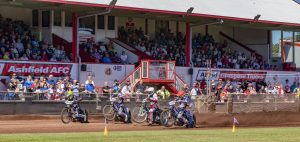 Image Courtesy of Taylor Lanning Photography