ABS GETS STRONGER WITH GB
NATHAN ABLITT believes that being part of Great Britain will add 25 per cent extra confidence to his racing.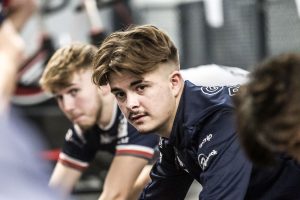 Images courtesy of Taylor Lanning Photography
The Sussex star joins up for his second GB Academy Performance Camp at Bicester this weekend.
Ablitt, 17, has made huge strides in his own progress over the past couple of seasons but is convinced a national call-up will give him even more success.
He said: "It definitely feels like a big step up. I had a positive start to last year with Eastbourne but struggled towards the end.
"I'm grateful for the opportunity with Great Britain. Working with the coaches and the information they can provide is awesome. I've never had that before.
"That provides a clear pathway for what we need to do to get the best possible results.
"The calibre of the coaches is new to me and speedway, it's the most professional set-up I've ever seen. The riders all hugely benefit from that.
"I think it probably adds about 25 per cent extra confidence and belief. Any problem I have there is now every resource I'd ever want to solve any issues.
"It's been going on in other sports for years but this is very new to speedway and I'm privileged to be part of it and learn from it."
Ablitt is a close pal of Tom Brennan as both were former Eastbourne riders. He now wants to follow in his mate's tyre tracks to gold medal glory.
He added: "I watched the Speedway of Nations at home on TV last October. I think that has inspired us all. A gold medal doesn't feel as far away as it once seemed.
"Before you'd think that kind of success was a million miles away. I obviously know Tom Brennan so well and within a year he's winning the Speedway of Nations. It's pretty crazy but it makes you realise that it is possible if you work hard.
"The way the coaches with Great Britain are talking at the Performance Camp it's not a one-time thing. We want to build on it and get even more success."