Academy is "priceless" for GB future
Great Britain joint boss Simon Stead believes the new GB Academy for young Brit stars is "priceless" for their futures. Stead has been appointed as a coach for the youth structure which now comes under the umbrella of the Great Britain mantle.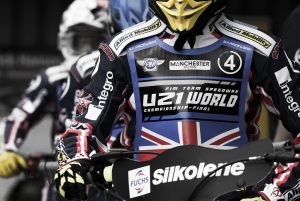 A wealth of world class and experienced talent, on and off track, has been lined-up to assist Stead bring on the next generation of home grown racers. GB Managing Director Rob Painter said: "It means there is now a complete structure and seamless progress line for any British rider from 15 or so upwards. We now have one umbrella from grassroots, showing the pathway to the senior team.
There are other excellent organisations like Hagon Shocks Academy, Poultec and, of course, the British Youth Championship. In each instance, we are all developing and training riders and we will be working closely with them. The Great Britain Academy is vital as the forefront of youth development. It has never been been done under one umbrella from youth to the senior team."
Great Britain co-boss Stead is delighted to see the national set-up umbrella embrace the No Limits group into the academy. He admitted: "It's the right thing to do at the right time. We are watching a huge transformation in the entire structure of the national team. I'm very excited to be part of the GB Academy. It will enable me to see the next generation of riders coming through, to identify where we will be rider-wise over the next five to 10 years ahead."
Painter was quick to praise the hard work and enterprise of the team that fronted the No Limits training programme which has run successfully for three years. That scheme now ends with the GB Academy now in full swing. Ian Sinderson from ATPI, and the team that spearheaded No Limits, are very much involved with the new GB Academy and is excited what the future holds. Sinderson added: "With the excellent backroom team now with Great Britain right across the board with fitness, nutrition and sports psychology, it's absolutely correct that all those involved start with the riders from an earlier age with the academy right through to senior level.
It is also excellent news that Great Britain joint boss Simon Stead will also become a chief coach of the academy. That, again, means continuity for the riders right through from 15 onwards and into their senior set-up.
I'm also delighted to say that Jason Crump will be taking a more active role with the Academy now he's back racing in the UK. Scott Nicholls is another rider who will be stepping up into more consistent attendance as a coach. This is such wonderful expertise from level-headed guys who have been there and done it all. We also have retained the services of Rory Schlein and Justin Sedgmen who have put so much time and effort into the next generation of British riders. The future looks very impressive."
*Read more details in this weeks Speedway Star magazine.