ALLEN ADMITS "JOB DONE"
GREAT BRITAIN boss Olly Allen admitted it was "job done" as they qualified from the FIME European Pairs Semi-Final.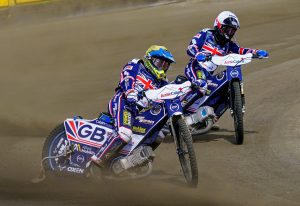 Image courtesy of Steve Hone Photography
Chris Harris and Tom Brennan scored nine apiece as GB finished three points behind winners Denmark and second-placed host nation Finland in Varkaus on Saturday afternoon.
Danish pair Rasmus Jensen and Mads Hansen sealed the victory with a final heat victory over the Brits but by then qualification for the final had been achieved.
Allen said: "We came here to do a job and qualify and we achieved that. We managed to seal that before the last race so that meant it was a no pressure situation.
"We went out in the last race to win the meeting. It doesn't matter at the end of the day. It was already job done.
"The Danes were on great form. Rasmus Jensen is in the form of his life while Mads Hansen is an experienced international rider. But it was good to qualify before the final heat.
"Tom Brennan and Chris Harris did some really good things. I think they both picked up a lot of knowledge from the meeting.
"It was a very strong result considering we missed practice on Friday to allow the boys to race for their UK clubs on Thursday night.
"We came out a day later and maybe the other teams had a slight advantage because of that. But the boys didn't let that unsettle them and also the fact that the three of them hadn't ridden the track before."
Allen admitted that the experience for the younger riders is priceless with another good performance from Brennan.
He added: "Tom and Chris get on really well because they ride at Glasgow together. Jordan also fitted in really well.
"Tom is a really great team player while Chris brings so much experience and composure to the entire camp.
"Since myself and Simon Stead have been in this job, Chris has been invaluable to have around.
"Jordan deserved his chance and hopefully he will have learnt a lot from the trip.
"We have watched Tom grow so much over the past two or three seasons doing events like this in Europe.
"A couple of years ago he was coming out as a reserve. Now we want the same process to work for Jordan and other young riders who are pushing to get in the squad."