ALLEN: EUROPEAN EXPERIENCE WILL BE KEY
GREAT BRITAIN boss Olly Allen believes the World Cup is set to be a "fascinating" battle.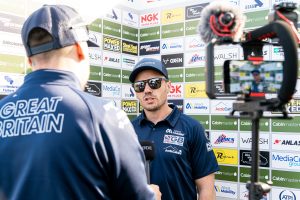 Image courtesy of Steve Hone Photography
The national squad go into the return of the five-man format after finishing with Gold and Silver in the last two Speedway of Nations events.
Great Britain will be one of the fancied nations when the World Cup kicks off in Wroclaw on July 25.
But Allen believes that it will be the toughest tournament they have faced yet.
He said: "I know that many people are talking up our chances with it being at Wroclaw because of Tai Woffinden and Dan Bewley.
"To be quite honest, I don't think that makes any difference in the slightest.
"At this level, all the riders are world class. They know how to ride every track in Poland.
"We have a very strong team, our top three pick themselves, but I think that applies to most of the nations.
"The usual suspects all look very strong in my opinion. It's going to be a fascinating event. But we've still got to get through the first event and that's all we are concentrating on."
There will be focus also on the last two team spots in the side with the top three obviously Woffinden, Bewley and Robert Lambert.
Allen admits that there has been a process in place for some time for the GB squad and European experience.
He added: "We will pick the best two riders suited to racing on continental tracks.
"Our entire plan for the past few seasons was to give British riders the right amount of track time in Europe. That's why all the Euro Under-23 Semis and Finals are so pivotal in preparation. It takes time to get riders ready for the challenges of tracks on the continent.
"Our final two riders will be based on their performances and know-how for Europe and for, what we believe, the right ability at Wroclaw.
"We need five riders all performing to win medals. Every top country has got strength in depth. We have progressed with incredible speed over the past five years.
"We were playing catch-up big time. But we've managed two Silvers and a Gold in the Speedway of Nations. Now we need to go to the next level with five riders for a World Cup success story."