ALLEN: "HUGE OPPORTUNITIES"
GREAT BRITAIN boss Olly Allen has vowed there are "huge opportunities" for his Global Challenge side.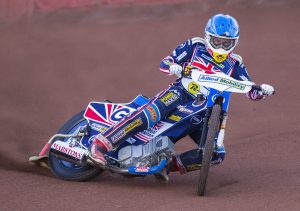 Images courtesy of Taylor Lanning Photography
The national set-up are bringing in fresh new talent for the test match with Rest of the World at Ashfield Stadium, Glasgow, today at 3pm.
After a difficult week littered with injuries and illness, Allen has had to change the GB team with call-ups for ex-Glasgow rider Richie Worrall and a debut for hot prospect Connor Bailey.
After his horrific crash in Poland a week ago, Dan Bewley is not available as he recuperates while Kyle Howarth is also missing from the original line-up after going down with Covid-19. Jordan Palin also has to step down after a heavy pile-up at Belle Vue.
Allen said: "It's been an extremely difficult week, losing three riders in that space of time.
"But in one sense that underlines the importance of test matches, it's all about giving riders huge opportunities to prove themselves on an international platform.
"Last Friday we all saw Dan's crash in Poland, it was always going to be touch and go whether he could race for Great Britain.
"He wanted to ride and we said we'd give him the maximum amount of time until late last night. But it's clear it would be a huge risk for him to compete at this level.
"We had already lost Jordan after his nasty fall at the National Speedway Stadium and Kyle informed us he had gone down with Covid-19.
"It's been a hectic few days but we are delighted that Robert Lambert replaces Dan at No.1 and then Richie and Connor are direct swaps for Kyle and Jordan.
"Robert comes in as captain naturally. He led us superbly to the Speedway of Nations success last October and he's now an outstanding talent on the world stage.
"Richie has been in excellent form this season in both leagues, he's always a classy, professional performer and it will be great to see him in GB colours.
"Connor came into the GB set-up at the Performance Camp earlier this year. He has shown terrific potential at Glasgow and it will be interesting to see him on his home track against world class riders."
Great Britain v Rest of the World. Ashfield Stadium, 3pm.
GB: 1. Robert Lambert (c), 2. Charles Wright, 3. Craig Cook, 4. Richie Worrall, 5. Tom Brennan, 6. Connor Bailey.
Rest of the World: 1. Jason Doyle (c), 2. Norick Blodorn, 3. Max Fricke, 4. Luke Becker, 5. Rasmus Jensen, 6. Dillon Ruml.