Bewley Backs Brits Future
Dan Bewley vowed that Great Britain's youngsters need to keep "learning" after leading the side to a Bronze medal in the FIM Under-21 Team World Championship final.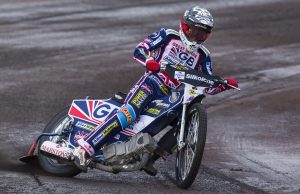 Images courtesy of Taylor Lanning Photography
The Cumbrian star produced 17 points as GB grabbed third place in a tough event behind winners Poland and Denmark in Outrup on Saturday night. Bewley delivered some outstanding moments including a vital 'Joker' ride double points win to keep GB in the hunt for medals throughout. It was Britain's third successive medal in the final and will be Bewley's last in this competition as he now moves up into the senior side.
He said: "The Poles learnt the track pretty quick and got on with it. You have to have respect for them, the way they adapted to it. It was a good result because this year we lost Rob (Lambert). The years before the riders have all been 18, 19 or 20-years-old, like Adam Ellis as well. But everyone has move up now. Now it's up to these riders to take it over."
"This is a very young team at the moment but they will have to step it up. We need to keep learning and to pay attention to the mistakes we make. It would be better if we criticise ourselves more. I want us to succeed at this level and maybe not be happy with Bronze, only be happy with Gold if I'm totally honest."
Bewley's strong performance on a heavy track affected by rain in the early stages was perhaps even more commendable considering it was his first meeting back from a shoulder injury.
He added: "It's just good to be back riding again. The track was actually a lot of fun. It was probably the worst you could ever have coming back from injury. I actually got through it no problems. It was a good test. It was good that the club got the meeting on in the end because it looked like it was going to be off."
Scorers:
Great Britain 32: Dan Bewley 17, Tom Brennan 7, Drew Kemp 5, Jordan Palin 2, Leon Flint 1.
Poland 46: Dominik Kubera 14, Wiktor Lampart 13, Jakub Miskowiak 10, Viktor Trofimov 9, Norbert Krakowiak 0.
Denmark 42: Tim Soerensen 13, Mads Hansen 10, Jonas Seifert-Salk 10, Matias Nielsen 5, Marcus Birkemose 4.
Latvia 6: Francis Gusts 3, Ricards Ansviesulis 2, Ernests Matjusonoks 1, Oleg Michailov 0, Daniils Kolodinskis 0.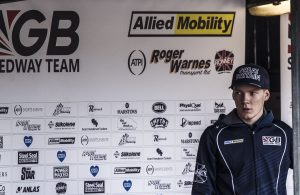 This is a very young team at the moment but they will have to step it up. We need to keep learning and to pay attention to the mistakes we make

Dan Bewley - GB U21 Captain