BEWLEY GLORY
DAN BEWLEY admitted he would "never forget" his British Grand Prix win in Cardiff.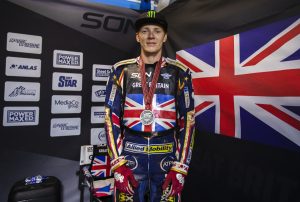 Image courtesy of Taylor Lanning Photography
The Cumbrian became only the third homegrown Brit GP winner at the Principality Stadium to move up to fourth in the overall standings a week ago.
Bewley then delivered a dream double in seven days by finishing second in the FIM GP Challenge in Glasgow to seal his place in the 2023 GP Series.
Following his glory in Cardiff, he said: "I actually thought about this in Gorzow, about winning in Cardiff. After my second lap I kind of seized up. I just want to say thanks to everyone for cheering me on.
"It's been awesome, what a night. I actually wanted gate two in the final. But after the semi I didn't have much choice, however it worked out pretty good.
"It was about making the start, get out in front. The track was easier when you're in front. After the first lap I thought put one good lap in.
"I think it's the wrong thing to do and look behind. But I saw I had a big lead and then I seized up. But we got the job done.
"I just want to say a big thanks to the boys in the pits, my sponsors and the fans who make this all possible.
"My heart rate was off the scale in the final and in the semi. But I love pressure and I think you have to embrace it and it's cool.
"After two laps I don't think it's pressure, I think you get a little bit confident. This is awesome but there's still a long way to go this season. But this is one I'm never ever going to forget."
He was racing number 13 and finished the qualifiers on 12 points. A second place was enough in the semi-final to set-up his epic moment for the final.
There have only been two British Grand Prix home winners; Martin Dugard in 2000 at Coventry and Chris Harris at the Principality in 2007.
But Bewley vowed to keep his feet on the ground. He added: "It was a tough night, the series is always really difficult. But I won't get carried away. There's still a long way to go with rounds so I've got to focus on that.
"It's cool to create a bit of history but the main thing now is to keep progressing and keep winning races.
"I know it's been good to win gold with Great Britain last October, that was a 36-year wait. It's been 15 years for a British winner here in Cardiff. It'll probably take some time to sink in!
"I could hear the noise from the fans and I've got to say thank you, it's been a special night."