Bewley looking to impress
Great Britain star Dan Bewley is determined to end the 2019 season on a high – and improve on his last senior outing in the red, white and blue!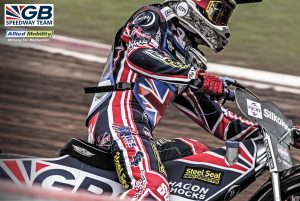 The Cumbrian racer will make his second senior appearance for Great Britain as they take on Denmark at King's Lynn tomorrow night (7.30pm), and it gives him the chance to end an injury-ridden season on a positive note.
He said: "It's always cool to represent Great Britain, I didn't do too well at Glasgow last year so I want to have a better meeting this time and make up for it! You always want to be involved with your national team so I'm looking forward to it.
"It's been a hard season but pretty good overall, I really shouldn't have been riding at the start of the season and there were a few weeks when I just wants the season to finish. I kept picking up little injuries and it was frustrating, but then it clicked a little bit and I had a good end to the season.
"Everyone knows I had a bad injury with my leg but it's fine now, it's weaker than the other one but it's good enough to do what I need to do with it. I've forgotten what it was like before really so it's fine – it doesn't affect me much now."
The Belle Vue star has enjoyed significant experience in Europe over the last couple of years, racing regularly in Poland and Sweden, and it's something he is looking forward to continuing in 2020.
"I'm hoping I can get a full season in Poland next year, I think I did five meetings last season and I ended up doing seven this year, so I want to try and do the full season over there. It's good for me, it's different tracks, different riders, different people – I like it.
"It's the same with Sweden, I am back in Hallstavik for next season and that will be cool again. It's a really strong league, you have the top riders in the world over there so it's not easy but that's how you get better."
Bewley was part of the Great Britain Under-21 team that won a silver medal in this year's World Championship, and he has a great chance of taking the Under-21 spot for the senior team in next year's Speedway of Nations tournament, "I enjoyed the Under-21 meeting, it was tough but we had Robert (Lambert) back this year and we managed to go one better than last year and get the silver medal.
"I would love to be involved in the Speedway of Nations, they're the type of meetings you want to be racing in. I actually wish it was the old format of four-man teams but either way, I want to be a part of it so I'll just try to score as many points as I can and if I get picked, then I'll be really happy to be involved."
It's always cool to represent Great Britain, I didn't do too well at Glasgow last year so I want to have a better meeting this time and make up for it! You always want to be involved with your national team so I'm looking forward to it

Dan Bewley