Bickley: "We must stay positive" during crisis
Hot prospect Kyle Bickley believes all speedway riders have a massive "mental battle" to stay sharp during the coronavirus crisis.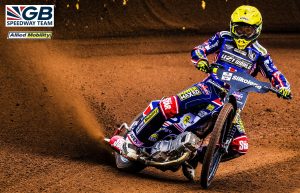 Image courtesy of Taylor Lanning Photography

The young Cumbrian is gutted that the season has been put on hold during the Covid-19 lockdown. Bickley reckons that all shale stars are facing psychological torture as the days and weeks roll by without any action. He said: "I know that sport isn't important right now, only the health of people. You just want everyone to stay as safe as possible. It's really worrying times but I know it's also very stressful for riders because of the financial investment in bikes. I've put all my money into my bikes and equipment ready to race in March and then to earn that money back, it's now going to be a mental battle. But obviously we've not raced at all and it can be a struggle for some to stay positive. Plus whatever happens, our income will be much less this season, it won't make up for the investment. I know that so many people are in the same boat without any work. It's such a worrying time for everyone to stay healthy and survive financially."

There's so many positives about the help we get from all the Great Britain backroom team. They are always available and I'm sticking to the advice. All we can do is train at home. It's vital to do that, if you stay fit in body then you'll stay fit in mind.

Kyle Bickley
Bickley is taking the advice of Great Britain's substantial support team to stay fit and mentally sound during this tough period of time. He added: "We were at the recent GB Performance Camp in Southampton and that was really good. I think all the boys took a lot from that. "Now it's about using what we learnt during this time of no racing. It's important to eat right and stay mentally sharp.
"There's so many positives about the help we get from all the Great Britain backroom team. They are always available and I'm sticking to the advice. All we can do is train at home. It's vital to do that, if you stay fit in body then you'll stay fit in mind. You can't just sit around watching daytime TV or you'll go stir crazy. It is a frustrating time. I think everyone is raring to go and it feels odd that we are in March and sitting at home. But we need to stay positive and get ready to race as soon as this is over."