BRENNAN: AIMING FOR GOLD IN MACON
TOM BRENNAN admits that his Great Britain experience has been "priceless" in his recent success.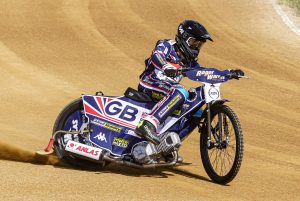 Image courtesy of Steve Hone Photography
The Swindon-born star has continued his outstanding form after helping GB to win the Speedway of Nations in Manchester last October.
Brennan, 20, now returns to the event that he believes propelled his confidence a year ago in the FIME European Pairs Championship semi-final in Macon, France on July 23.
He has been picked alongside Adam Ellis and Chris Harris, the same trio that enjoyed an excellent result in 2021.
He said: "We didn't do as well as we wanted in the final last year, we got fourth.
"But the main thing probably from me was the experience I got. It was pretty awesome to be around Chris Harris and Adam Ellis and my British form really picked up after that trip.
"Chris is the perfect role model to be around. His attitude is spot on at all times. Whatever is thrown at home, whether it's bike issues, track changes or difficult opposition, he just gets on with it. He always tries to figure out how best to get results no matter what is happening around him.
"I picked up so much information from him during that Euro Pairs last year and it's no coincidence I got 20 points in the Under-21 team final in Bydgoszcz and then that probably got me a place in the SoN team as the Under-21 rider.
"I ended up with a gold medal and it might have been all down to that Euro Pairs event. You can pick up belief and confidence anywhere riding for your country.
"That's the Under-23 semi-final in Pardubice recently was important. It has made me a better rider for my British clubs Belle Vue and Glasgow."
France won the title a year ago on their home shale, Brennan has fresh belief this time round.
He added: "It would be awesome to get another gold to go with my SoN medal.
"Adam and Chris have got so many British titles between them and so much know-how, I believe we can improve this time. We want that gold again."