Brennan - GB must "seize the day"
TOM BRENNAN insists that Great Britain must "seize the day" to break the Polish stranglehold on the FIM World Under-21 Team Championship.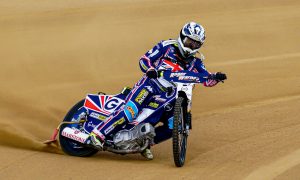 Image courtesy of Steve Hone
The young Belle Vue and Glasgow ace will play a huge role alongside Drew Kemp and Leon Flint in the bid to stop the host nation winning an eighth straight title on home shale in Bydgoszcz.
Brennan, 20, has shown his best form of the 2021 season over he past few days with an excellent nine points for his Premiership side.
But he knows it will be tough to break the Poles in front of their home fans. He said: "I think we need to go into it talking up our chances instead of thinking about the rivals.
"We know the Poles will be favourites but we've got three good riders in myself, Drew Kemp and Leon Flint.
"If we all can ride to our potential, I know we can win it. We need to go there with confidence of getting a strong result.
"I don't ever believe in going to events for experience. You need to seize the day and take every opportunity you get.
"I was much happier with my own form for Belle Vue on Monday night. It was the perfect preparation for a meeting of this size in Poland. The main thing is that we make good starts and that will give us the best chance of success."
Poland's domination of the tournament is quite astounding having won 13 out of the 16 events since it began in 2005.
Brennan insists Great Britain are on track to deliver glory. He added: "Poland's youth system has been in place for some time and that's why they are so successful at this level and have the World Champion.
"The new Great Britain set-up has only been going for the last three years and we are playing catch-up but I believe way ahead of our time.
"The GB backroom team is the best it has ever been and it gives us the best possible chance to deliver results on track. That's the aim anyway."