Britain has a triple World Champion!
Great Britain's Tai Woffinden is the 2018 FIM Speedway World Champion after wrapping up his third world title in incredible style in Torun, Poland this weekend.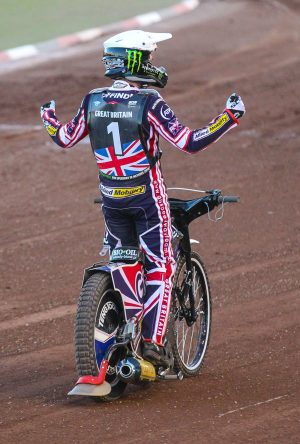 The GB skipper, who returned to the national side this year after a two-year exile, secured his third World Championship by charging to victory in the final round of the season – becoming officially the greatest British rider of all time.
Tai is the first Brit, and the youngest man in history, to win three World Championship titles and speaking in the immediate aftermath of his victory, he spoke of his relief that he'd wrapped it up.
He said: "After the crash I had in my third ride I was in a fair bit of pain so I'm relieved that I managed to keep going and wrap it all up. I can't really move my foot so it's pretty sore but I'm just pleased that I did what I needed to do.
"I knew coming here that I needed 12 points and that I could get them so it was just a case of getting my head down and getting it done. I knew I could handle the pressure and that I wouldn't crack, and I didn't, so it feels awesome to have the Gold medal around my neck again.
"I've been consistent pretty much all year apart from a small blip when we had some wet races but you can't be that fast and that good all season, you're always going to have a dip in form but as soon as we got past Slovenia I was cruising again and knew I'd be alright.
"I'm not too big on facts and figures, I just want to win as much as I can, but it's cool to be the youngest ever three-time World Champion and also to be the first Brit to do it too."
Not content with basking in the glory of his hat-trick, Woffinden said that he wants to go on to become the best ever and break the current record of six world titles – and he believes he can do it.
"If I stay enthusiastic I can do it, for sure. If I keep enjoying it and keep racing then I can break the record I think and I actually think I'm a way off my peak. I think you peak in your mid-30's and I'm not even out of my 20's yet so I know I can get better.
"After a couple of weeks I'll start planning next year and how to retain it but I'm going to enjoy it first and spend some time with my family."
After the crash I had in my third ride I was in a fair bit of pain so I'm relieved that I managed to keep going and wrap it all up. I can't really move my foot so it's pretty sore but I'm just pleased that I did what I needed to do.

Tai Woffinden