BRONZE FOR BRITS
Tom Brennan hailed Great Britain's "progress" after picking up a fourth successive FIM World Under-21 Team podium.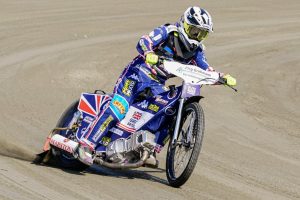 Image courtesy of Steve Hone
The youngster delivered a classy performance to lead GB to bronze behind Poland and Denmark in Bydgozscz on Friday.
Brennan scored an excellent 20 points, losing just two races, backed by Drew Kemp with five and Leon Flint two points in a tough field with Poland's PGE Ekstraliga stars Wiktor Lampart and Jakub Miskowiak very strong on 45, Denmark 35 and GB further back on 27.
The Belle Vue and Glasgow ace praised the structure that has got GB to the level of success.
He said: "I think we are starting to see the benefit of having raced together for so many years.
"The Poles and Danes have had a youth system in place for some time now while our new GB set-up is still in its early days. But the fact that I've ridden with Drew and Leon for a long time, it helps when it comes to the big meetings now.
"Obviously we've all been around Neil and Jackie Vatcher for years as well in the British Youth Championship, so it's like a family feeling and less stressful.
"We know each other really well so the communication is brilliant between us and the management. The Great Britain team give us the best possible preparation before, during and after the event so it just leaves us to concentrate on the racing.
"It was particularly tough in Bydgoszcz because none of us had ridden the track before so it was a fresh experience. But we all felt pretty good after practice that we could do a good job.
"We started with a maximum heat win, I felt that was really important. I was pretty happy with the way I went. I made a couple of mistakes but to get 20 in a meeting of that size was important to me.
"We were racing against the best in the world at our age level and I feel we are making massive progress all the time. We keep winning medals, gaining experience. We all want gold, obviously, but that will come. At this moment it's just vital that we get to race against the best in the world on a regular basis on different tracks."