BRONZE FOR BRITS
GREAT BRITAIN boss Olly Allen admitted he was proud of his side in a "challenging" FIME European Team Championship final.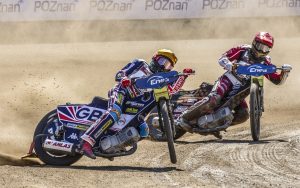 Images courtesy of Taylor Lanning Photography
The national side picked up a bronze medal behind a dominant Poland and Denmark on a hard afternoon in Poznan.
Dan Bewley and Robert Lambert led the way with outstanding performances on a difficult track surface.
Team boss Olly Allen admitted it was a hard afternoon but was delighted with the resilience of his squad.
He said: "It was a challenging meeting to say the least but all the boys dug in to get a medal.
"Obviously it wasn't the medal we went to achieve. But given the circumstances we are all satisfied in the end.
"The track was unpredictable to say the least. But our lads remained positive about getting the meeting done and they battled hard for every point. That's all I can ask of them.
"I felt that the track played its part in the latter stages and possibly cost us the silver medal.
"Robert Lambert was particularly unlucky. He seemed to be in the wrong place at the wrong time, several times. Other riders hit the ruts and he lost places because of it.
"That's speedway I guess. It's another massive experience for all the boys but their attitude was outstanding.
"On another day we could have picked up silver easily. The Poles were outstanding on their own patch, we expected that. They have so much experience and strength in depth. Congratulations to them for a fine win."
Poland 47: Janus Kolodziej 15, Bartosz Zmarzlik 14, Patryk Dudek 11, Maciej Janowski 7.
Denmark 28: Anders Thomsen 7, Fredrik Jakobsen 6, Rasmus Jensen 6, Patrick Hansen 6, Leon Madsen 3.
Great Britain 27: Dan Bewley 11, Robert Lambert 10, Chris Harris 4, Adam Ellis 2.
Sweden 18: Fredrik Lindgren 8, Jacob Thorsell 4, Oliver Berntzon 4, Kim Nilsson 2.