COOK TO "KICK ON" FOR GB
CRAIG COOK has vowed to "kick on" with his International career after a return to the Great Britain side.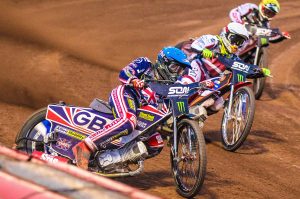 Image courtesy of Taylor Lanning Photography
The Glasgow No.1 had decided to step back from the national set-up following a tough enforced break from the sport during the Covid-19 pandemic.
He was part of the GB side that picked up Silver in the epic 2016 World Cup final at Belle Vue and the Speedway of Nations Silver medal side two years later.
Now Cook is ready to be back for GB for the Global Challenge Series Test Match with the Rest of the World at Ashfield Stadium this Saturday (3pm).
He said: "I did originally take a step back from it all and gave GB a break. But I do miss it and I do have that hunger to be better.
"I did feel that pressure from GB and I wanted that next level. But this year things have been a bit slower and it's given me time to work on myself and figure out what I want.
"I'm feeling hungry, I feel like I want it. This will hopefully lead to something next year.
"I am 35-years-old but there's a few riders in their mid-30s or above who still cut it at the highest level, winning World Championships.
"I don't feel 35, maybe physically over the past week I have after all the knocks. Mentally I probably feel about 21!
"I just want to do as many meetings as I can and see where it leads to. I've got a bit of fire about myself at the minute.
"I really want to kick on and get back to the rider that I was."