DEFIANT TAI
TAI WOFFINDEN vowed that Great Britain are ready for a "new challenge" in the FIM Speedway of Nations final.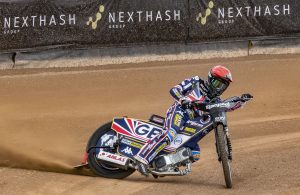 Images courtesy of Taylor Lanning Photography
The three-time World Champion led his country with a sensational 19-point haul in semi-final Event 2 on Thursday to reach the showpiece final in Vojens, Denmark.
Great Britain overcame a tough start to win a race-off over France to secure their place against hosts Denmark, Poland, Finland, Australia, Czech Republic and Sweden.
Woffinden said: "It doesn't matter how many points we scored tonight. We just need to do a job on Saturday.
"We've qualified. It would have been nice to go straight through. But we are through to the final and that's all that counts. New day, new challenge.
"I made some really bad starts and then the rest of them were pretty decent. The one from four was amazing.
"We now have a good idea of what we're looking for. All we had to do is get through.
"Everyone has had a good ride on the track, me, Dan and Rob. We are all a little bit more knowledgeable about the starts. Now we move on to Saturday."
The Brits showed real mettle with Woffinden and Bewley securing a maximum 7-2 over France to qualify. Lambert and Bewley played their parts with 12 points to back up their talisman.
Bewley said: "The most important thing was just to make it in the end. Reflecting back on the meeting, I'm pretty happy with it.
"The first race was a bit of a throwaway, it was that wet the boys couldn't really do anything. Rob was also unfortunate he sort of got suckered into the tapes.
"Just some things like that made it a bit harder. All-in-all we are pretty happy with our riding.
"To get that last win in the end was nice for me also. I feel a lot more confident going into Saturday night."
________________
FIM SPEEDWAY OF NATIONS SEMI-FINAL 2 SCORES:
1 SWEDEN 35: Oliver Berntzon 21, Fredrik Lindgren 14.
2 CZECH REPUBLIC 34: Vaclav Milik 19, Jan Kvech 15.
3 GREAT BRITAIN 31: Tai Woffinden 19, Robert Lambert 6, Dan Bewley 6.
4 FRANCE 32: Dimitri Berge 19, David Bellego 13.
5 SLOVENIA 22: Matic Ivacic 17, Nick Skorja 3, Anze Grmek 2.
6 NORWAY 18: Espen Sola 11, 3 Lasse Fredriksen 7, Glenn Moi 0.
7 ITALY 17: 1 Paco Castagna 17, Daniele Tessari 0.