Ekstraliga Preview - Round Three
Tai Woffinden and Dan Bewley face another tough trip to Ekstraliga title contenders when Wroclaw visit Czestochowa on Sunday evening.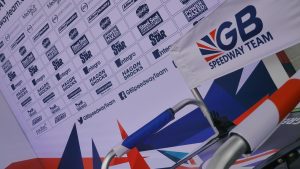 Image courtesy of Darren Bott
The home side have been in sensational form so far this season, defeating Grudziadz on their own track before romping to a 59-31 win at Zielona Gora to go to the top of the table.
And with a power-packed top three of Leon Madsen, Jason Doyle and Fredrik Lindgren, the likes of Woffinden and fellow GP star Maciej Janowski will need to be on top form to contain them, if they are to bounce back from their loss at Leszno.
Wroclaw were 49-41 winners at Czestochowa last season with Woffinden, Janowski and Gleb Chugunov all scoring heavily, but the Lions look to have more depth to their side this time around. Woffinden is named at No.5 for the visitors, meaning he faces Doyle in his opening ride, whilst a place at No.4 affords Bewley a slightly gentler introduction into the meeting – although it does immediately give him two outings on the trot under the new race format.
Meanwhile Robert Lambert and his Rybnik team-mates will look to lift the mood when they take on Gorzow in the afternoon fixture.
The newly-promoted side have suffered two heavy defeats so far as well as a host of injuries, with much debate as to the strength of their promoted squad. Lambert has been their top performer so far and is set to once again line up in the No.8 position with rider-replacement in operation for broken leg victim Andzejs Lebedevs – whilst Sergey Logachev is the latest rider to come into the side.
Gorzow are the only other team in the league to be point-less so far, but they are boosted by the return of Niels-Kristian Iversen as back-up for World Champion Bartosz Zmarzlik.
Elsewhere in Round Three, Friday's fixtures have been postponed until Saturday due to a poor weather forecast. They feature unbeaten Leszno taking on Lublin, with Jaimon Lidsey coming in for the home side, whilst Zielona Gora will look to recover from their outing last time out when they face Grudziadz – from whom Artem Laguta defends a run of eleven successive race victories in 2020.