EUROPEAN REVIEW - PGE Ekstraliga
Robert Lambert opened his Ekstraliga season as part of a winning Torun team on their return to the top-flight of Polish racing.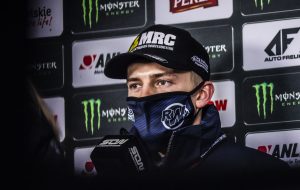 Image courtesy of Taylor Lanning Photography
Lambert scored 5+2 from four rides in a 51-39 home win over Zielona Gora, where a more all-round team display from the hosts saw them overcome the visitors who were heavily reliant on Patryk Dudek and Max Fricke.
Torun elected to track Lambert in the No.8 position, and he then took all four programmed rides allocated to Petr Chlupac.
He gated well in Heat 3 before being passed on the inside by Dudek and Matej Zagar, before racing hard to recover third place from Zagar at the end of the third lap.
There was a lucky escape in Heat 5 as team-mate Adrian Miedzinski clipped Fricke and fell heavily exiting turn two, thankfully avoiding Lambert who was making his move around the outside. Lambert then split Fricke and Piotr Protasiewicz in the re-run.
Heat 10 saw Lambert hold a 5-1 position with Miedzinski only for Zagar to pull off the ride of the day to pass both, and the European Champion completed his meeting with a third place in Heat 11 after an early battle with Protasiewicz.
Zielona Gora looked capable of pulling back an eight-point deficit, but the match swung in Heat 13 with the scores at 39-33. Zagar and Fricke held a 5-1 situation but Zagar clipped his team-mate and slewed across the track, bringing down Jack Holder and forcing Chris Holder to lay his machine down.
There were no injuries, but it spelt the end of the visitors' challenge as Torun added a 4-2 and a 5-1 to extend their advantage to 12 points.
Meanwhile there was a big story in the second meeting of Easter Sunday as Gorzow stunned champions Leszno with a 48-42 away win in a thrilling encounter.
World Champion Bartosz Zmarzlik starred for the visitors on a circuit where he had endured a nightmare in last season's Grand Final six months ago – and on this occasion he was outstanding.
The Pole piled up 14 points including getting the better of Emil Sayfutdinov in a stunning Heat 11 battle which maintained a four-point lead for his side.
That came one race after a dramatic first lap of Heat 10 when home debutant Jason Doyle surged inside Wiktor Jasinski and Anders Thomson on the third bend, with the Dane coming down and being excluded.
But the decisive moment came in Heat 13 when Leszno, trailing by eight points, paired Doyle with Piotr Pawlicki and were attempting to set up a 5-1 as Pawlicki tangled with Rafal Karcmarz on the back straight with both coming down.
The referee adjudged Pawlicki at fault and to compound Leszno's misery Thomsen won the re-run to effectively confirm their first home defeat in nearly four years.
Szymon Wozniak's point in Heat 14 made mathematically certain before Zmarzlik wrapped things up by defeating Doyle and Sayfutdinov in Heat 15.
The Division One programme was limited to two meetings, as matches at Gniezno and Bydgoszcz were called off due to Covid and rain respectively.
Relegated Rybnik made a fast start to their bid to return to the Ekstraliga with an emphatic 63-27 win over Krosno, with Sergei Logachev, Michael Jepsen Jensen and Kacper Gomolski all scoring paid maximums - Gomolski's score coming just 24 hours after the death of his father.
Meanwhile Gdansk raced to an impressive 55-35 win at Tarnow, led by Viktor Kulakov on 13+1, whilst the hosts were hampered by the withdrawal of Niels-Kristian Iversen who suffered shoulder damage in a crash with Jakub Jamrog as the riders crossed the finishing line in Heat 1.