EUROPEAN REVIEW - PGE Ekstraliga
Dan Bewley helped Wroclaw into the top four of the PGE Ekstraliga as they pulled off an impressive 52-38 win at Czestochowa on Sunday.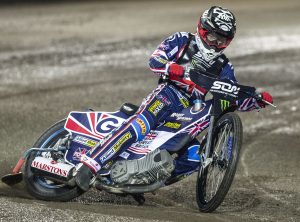 Image courtesy of Taylor Lanning Photography
Bewley collected 8+1 from six rides on a circuit where he had failed to score from two rides last season, again underlining his rapid improvement since 2020.
The Great Britain youngster and Gleb Chugunov, with 10+2, supplied the vital middle-order support needed for top men Artem Laguta (17) and Maciej Janowski (15+2) in the absence of Tai Woffinden, as the home side were restricted to just four race wins – three of them from reserve Jakub Miskowiak!
Bewley started with a third place in Heat 3 ahead of Jonas Jeppesen, and although he lost out to Leon Madsen in Heat 6, another third enabled Wroclaw to extend their lead to four points.
He was kept at the back of Heat 9 by Kacper Woryna, but the score was 31-23 in the visitors' favour at that stage, and Bewley's meeting would finish strongly.
Heat 12 saw him split Miskowiak and Bartosz Smektala as Wroclaw closed in on victory, and he then added a sensational 5-1 alongside Janowski in the next with Madsen relegated to third place.
Bewley had another battle with Miskowiak in Heat 14, with the home reserve holding the edge, but a 3-3 alongside Chugunov with Smektala at the back completed another hard-working performance.
Elsewhere on Sunday, a remarkable evening meeting saw leaders Gorzow move two points clear of Lublin with a 50-40 win at Zielona Gora.
The hosts made a flying start and led by ten points themselves after five races, with Patryk Dudek inflicting a rare defeat on Bartosz Zmarzlik when the World Champion was taking a tactical substitute outing.
But that was cue for a dramatic Gorzow response with three 5-1s in the next four races led by Zmarzlik (17), Anders Thomsen (12) and Szymon Wozniak (9+2) as they maintained their 100 per cent start to the season.
Eventually Zielona Gora were forced to use tactical substitutes themselves but the in-form Dudek was left alone on top of their scorechart with 16.
The result leaves Zielona Gora second from bottom in the table with just two points, and they have raced one more meeting than their rivals.
Division Two action got underway with Daugavpils defeating Landshut 47-42, and it is now rumoured that Wittstock could rejoin the league due to the improving situation in Germany.
Meanwhile this weekend's Ekstraliga racing takes place on Saturday and Sunday, rather than the normal Friday, in order that all four meetings can welcome spectators from May 15.
The GB riders will be in action on Sunday, with Wroclaw v Gorzow the standout fixture of the round.