EUROPEAN LEAGUE REVIEW
Great Britain's Robert Lambert top-scored for Torun as they made a winning start to the PGE Ekstraliga season on Sunday.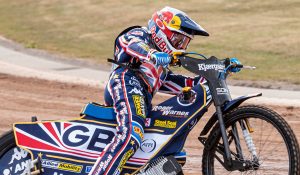 Image Courtesy of Steve Hone Photography
Lambert collected 11+2 from five rides in a 47-43 victory over Gorzow, with the visitors pushing the hosts closer than might have been expected having lost Bartosz Zmarzlik over the winter.
Gorzow took an early lead despite Lambert's initial race win, but there was a key 5-1 from Lambert and Patryk Dudek in Heat 7 after Anders Thomsen had come down on the first bend.
Lambert was headed by Szymon Wozniak in Heat 9 but defeated Martin Vaculik and Thomsen in Heat 13 with Torun eight points ahead at that stage.
But a 5-1 from Oskar Fajfer and Thomsen set up a nervous finale at 44-40 – with Lambert and Emil Sayfutdinov taking a 3-3 from the decider behind Vaculik.
Sayfutdinov added 11+1 on his delayed debut for Torun, whilst Vaculik took six rides and also grabbed 11+1 for Gorzow.
Elsewhere there was drama in both of the other two meetings as a sensational display from Nicki Pedersen enabled Grudziadz to draw 45-45 with Czestochowa.
Pedersen raced to an 18-point maximum on his return from injury, but his side seemed set for defeat as they trailed 29-37 with four races remaining.
But two 5-1s followed as Pedersen teamed up with Max Fricke in Heat 13 over Mikkel Michelsen, and the last two races were shared – Pedersen winning the decider with a brilliant move inside Leon Madsen going into the third bend, and then holding off his fellow countryman's challenge on the last lap.
The visitors were without Kacper Woryna, who had crashed at Rzeszow earlier in the week and stood down from the side after the pre-meeting practice.
Elsewhere, Leszno edged a 46-44 win over newcomers Krosno, for whom Jason Doyle played a starring role on his return to the club he left in the winter.
Doyle helped his new side into a 26-22 lead after eight races, only for two 5-1s to put Leszno ahead – before Krosno fought back again with a 5-1 in Heat 11 and a 4-2 in Heat 13 to go 40-38 up.
Doyle won a shared Heat 14 with Krzysztof Kasprzak at the back, and another 3-3 looked likely in Heat 15 until Janusz Kolodziej first drove inside Vaclav Milik and then got the better of Andzejs Lebedevs to team up with Grzegorz Zengota and send the home crowd wild with a match-winning 5-1.
The eagerly awaited Lublin-Wroclaw fixture was an early victim of the weather and will be re-staged on April 26.
In Division One, there were three home wins with much-fancied Bydgoszcz taking a 49-41 win over Lodz with Kenneth Bjerre and Daniel Jeleniewski both in double figures.
Promoted Poznan opened up with a 48-42 victory over Landshut with Danish rider Jonas Seifert-Salk impressing on 13 points whilst Antonio Lindback added 11+2 – and Dimitri Berge (14) and Kai Huckenbeck (12) dominated the scoring for the visitors.
With favourites Zielona Gora being rained off at Rybnik, the other fixture saw Gdansk defeat Ostrow 46-41 in an eventful meeting with saw the visitors lose Tobiasz Musielak to a broken collarbone, whilst home reserve Seweryn Orgacki was red-carded from the meeting after two exclusions.
Michael Jepsen Jensen's 13 points, backed up by 10+2 from Nicolai Klindt, ensured the home side got off to a winning start.
There was only one meeting staged in Division Two and it turned out to be a tremendous return to Polish action for Scott Nicholls, who scored 11 points including three race wins in a 56-33 win for Rawicz over Daugavpils.
Nicholls was backed up by Ryan Douglas with a 15-point maximum, whilst Steve Worrall made a decent debut for the Latvian side with eight points from six rides.