EUROPEAN PREVIEW
Robert Lambert kept up his blistering run of form with another top-scoring performance in Sweden this week.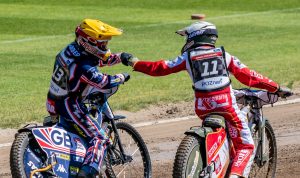 Image courtesy of Steve Hone Photography
Lambert scored 14 points from six rides in Smederna's 48-42 win over Lejonen at Eskilstuna, winning four of his races.
The only point he dropped on the track was to Bartosz Zmarzlik after a fierce battle in Heat 11, with the other minor blip coming with a tapes exclusion in Heat 6.
Smederna won the meeting despite a 15-point maximum from Zmarzlik and the absence of Dan Bewley, who was released from hospital on the same day after his crash in Wroclaw last Friday.
Lambert now returns to the UK to lead Great Britain in their latest Global Challenge fixture against the Rest of the World at Glasgow on Saturday.
Elsewhere in the Bauhaus-Ligan, Indianerna were 47-43 winners at Rospiggarna, whilst on Thursday Lejonen raced to a massive 60-30 away win at Piraterna.
In Poland, Under-24 Ekstraliga leaders Leszno and Ostrow both had home wins with the Bulls defeating Lublin 57-33, whilst Ostrow beat Wroclaw 50-40. Jack Smith failed to score from two rides for the visitors.
Elsewhere the teams in third and fourth places fought out a 45-45 draw as Grudziadz levelled things up at Torun with a 5-1 in Heat 15 with Kacper Pludra scoring a 15-point maximum. The match between Czestochowa and Gorzow was postponed.
The main Ekstraliga schedule takes a week off this weekend, with the exception of the re-arranged fixture between Gorzow and Grudziadz, which was called off last Friday.
A win for the hosts will take them back into second place above Leszno and Czestochowa, whilst the visitors would move back into the play-offs with a surprise away success.
The remaining clubs are inactive this weekend, which was initially allocated for the suspended GP at Togliatti, and was not replaced.
There are a series of re-arranged fixtures in Division One, starting with the clash between Landshut and third placed Krosno on Friday. Krosno are in action again on Sunday against Gniezno, and two wins would see them gain ground on the top two, Bydgoszcz and Zielona Gora, who do not race this weekend.
Meanwhile Rybnik have a big home match against mid-table Gdansk as they bid to drag themselves off the foot of the table.
Catch-up fixtures in Division Two feature an important clash between Daugavpils and leaders Opole on Sunday, with Adam Ellis named in the side for the hosts, who are four points behind in third place.
Daugavpils are in action again on Sunday when they visit Poznan – who have confirmed that the in-form Chris Harris will be in their side.
Elsewhere, Rzeszow host Tarnow in a meeting which was initially scheduled for early May.