EUROPEAN PREVIEW
Great Britain have declared an unchanged senior quartet for Saturday's FIME European Team Championship Grand Final in Stralsund.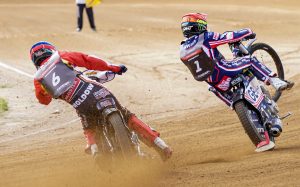 Image courtesy of Steve Hone Photography
Dan Bewley, Adam Ellis, Tom Brennan and Richie Worrall made up the side who qualified as top runners-up in Pardubice, and for the decider they are joined by Dan Gilkes in the Under-21 reserve position.
Meanwhile Poland have strengthened for the competition with World Champion Bartosz Zmarzlik taking the place of Jakub Misowiak for an event where a maximum of one GP rider per team is permitted. Zmarzlik is joined by Dominik Kubera, Jarek Hampel and Szymon Wozniak in a line-up which will surely start as favourites.
Denmark again name Mikkel Michelsen as their GP rider, and he is joined by Frederik Jakobsen, Rasmus Jensen and Andreas Lyager – whilst hosts Germany are represented by Kai Huckenbeck, Erik Riss, Martin Smolinski and Norick Blodorn.
There is further European action for Brennan and Worrall on Tuesday (April 25) when they contest the first qualifying round for the Speedway Euro Championship in Terenzano, Italy.
Further meetings take place at Daugavpils (April 29) and Debrecen and Mureck (May 1) with qualifying places up for grabs for the SEC Challenge at Nagyhalasz on May 14.
The Terenzano event appears wide open on paper with the home challenge coming from Nico Covatti and Paco Castagna, whilst former SEC regular Smolinski and Czech Republic star Jan Kvech are also in the line-up.
Meanwhile the PGE Ekstraliga has reached Round 3, and the standout fixture is undoubtedly Wroclaw's trip to Torun on Sunday evening, which features all three GB riders.
Last season, the two sides fought out a thrilling 45-45 draw in which Torun came back from six points down with two races remaining, with Robert Lambert involved in a 5-1 with Patryk Dudek over Dan Bewley in Heat 14 – and then Lambert won Heat 15 ahead of Tai Woffinden as the home side snatched a 4-2.
Both clubs have stronger line-ups on paper in 2023 and a terrific meeting is in prospect, also featuring the likes of Maciej Janowski, Emil Sayfutdinov and Artem Laguta.
Elsewhere, Lublin get their home campaign underway after last week's win in Czestochowa, as they face promoted Krosno on Friday. Later that day, Czestochowa aim for their first win of the season when they take on Gorzow at home, with the visitors having one win and one defeat so far.
The other fixture on Sunday features Grudziadz taking on Leszno, which is an opportunity for the hosts to win for the first time in 2023.
Division One has been heavily affected by the weather so far this season, but a full programme is scheduled for this weekend starting with the match between Poznan and Lodz on Saturday.
Gdansk are the very early league leaders, and they host Zielona Gora in the first of three Sunday fixtures, with the visitors due to have gone into action for the first time on Thursday with their rescheduled match at Rybnik.
Bydgoszcz also have one win from one meeting on the board so far, and they take on Rybnik on Sunday, whilst the round is completed by Ostrow's trip to Landshut where Leon Flint will hope to be involved for the visitors.
In Division Two, Scott Nicholls will look to keep up his strong start to the season when Rawicz take on Rzeszow in a clash between two sides who won their opening fixtures.
Meanwhile on Sunday there is plenty of British interest in the Pila v Opole fixture as Dan Gilkes lines up for the hosts and Adam Ellis for the visitors, whilst Steve Worrall takes his place for Daugavpils in their home match against Gniezno.