EUROPEAN PREVIEW - SGP Croatia
Great Britain's three Grand Prix riders launch their bid for 2023 glory in Croatia this weekend. Gorican is again the venue for the opening round of the World Championship, which will once more be staged over ten rounds concluding in Torun on September 30.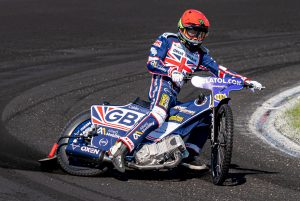 It's a familiar line-up to last year, with GB contingent all finishing in the top eight in 2022 – headed by Robert Lambert in fifth place after a consistent campaign saw him accumulate 103 points.
Lambert is yet to win a GP but finished a superb second at Vojens, backing up his third place at Wroclaw in the previous round, and he also made the Final in Teterow as well as three other semi-finals.
Dan Bewley was just one point behind Lambert in sixth place after a stunning mid-season run in his debut GP campaign put him firmly into the battle for overall podium places. Bewley secured memorable back-to-back wins in Cardiff and Wroclaw giving him an incredible 100 per cent record of converting Final appearances into victories, and he also reached four other semi-finals.
Meanwhile Tai Woffinden finished in eighth place on 93 points after a year which saw him reach two Finals, his best result coming with second spot at Prague, historically one of his best venues. The treble World Champion reached another four semi-finals and will be encouraged by his start to the season in Poland as he looks to break back into the group of title challengers.
Bartosz Zmarzlik joined Woffinden as a three-time Champion last term, and will this year look to join the likes of Hans Nielsen, Barry Briggs and Greg Hancock with four World crowns – whilst for the other podium finishers in 2022, Leon Madsen will look to take the final step after twice finishing as World No.2, and Maciej Janowski will hope to kick on after finally reaching the top three.
The one new addition to the line-up is Kim Nilsson following the Swede's shock victory in the GP Challenge at Glasgow, whilst former GP rider Matej Zagar again takes the Wild Card spot in Gorican.
Last year Zmarzlik picked up the first of three GP wins during the season, heading up a Polish one-two with Janowski second, with Mikkel Michelsen third and fellow Dane Anders Thomsen fourth.
Several of the GP riders have faced a busy week heading into the meeting, with seven of the field racing in the PGE Ekstraliga on Friday.
Torun will travel to Leszno with a degree of confidence in a meeting which sees Emil Sayfutdinov return to his long-time former club, whilst the hosts are without Chris Holder due to injury.
Leszno have elected to promote Ukrainian youngster Nazar Parnitskyi into their line-up, whilst Lambert and Patryk Dudek line up for Torun 24 hours before the GP opener.
Meanwhile Zmarzlik makes his return to Gorzow, where he became a club legend, as he lines up for his new club Lublin, with team-mates Fredrik Lindgren and Jack Holder also racing on the eve of their GP campaigns, and Thomsen and Martin Vaculik lining up for the home side.
And Zmarzlik goes into the meeting after an uncharacteristically low score of seven points from five rides in Lublin's 44-46 home defeat to Wroclaw on Thursday – the first time they had been beaten on their home circuit in 20 matches, stretching back over 900 days.
Gating was of paramount importance and track conditions meant the clash of the two apparent super-powers of the Ekstraliga didn't quite live up to expectations, although Zmarzlik's race win in Heat 13 was a spectacular effort which saw him pull off a dramatic double pass on Janowski and Artem Laguta.
There was a consistent display from Woffinden with 10+2 from five rides, including an opening race 5-1 for Wroclaw which saw him team up with Laguta against Holder and Jarek Hampel – whilst Dan Bewley scored five points from four rides, defeating Zmarzlik in his first two outings.
Elsewhere, newcomers Krosno raced to an impressive 50-40 win over Torun, despite a virtuoso display from Sayfutdinov who racked up 16+1 from six rides for the visitors. Sayfutdinov dropped his only point to Vaclav Milik in Heat 13, whilst Jason Doyle (12) and Krzysztof Kasprzak (1+2) led the scoring for the hosts – but Lambert endured a night to forget for Torun with two points from three rides.
This weekend's remaining Round 4 fixtures take place on Sunday with Wroclaw looking to make it four wins out of four as they host Czestochowa, whilst Kroszno will have high hopes of back-to-back victories on their home circuit when they face struggling Grudziadz.
There are two Division One fixtures this weekend including an early top-of-the-table clash between Zielona Gora and Bydgoszcz on Sunday, with both sides having a maximum four points from their first two matches.
Meanwhile Tom Brennan is named in the Lodz line-up for their home match with Landshut, which ironically will see the GB man come up against his Belle Vue team-mate Norick Blodorn who rides for the German side.
There is also a table-topping fixture in Division Two with Opole and Rawicz both on four points from two matches ahead of their meeting on Sunday at the Kolejarz Opole Stadium.
Adam Ellis is named in the line-up for the hosts whilst Drew Kemp is set to race at reserve for Rawicz.
Rzeszow also have four points on the board, from three matches, and they race at home to Daugavpils on Sunday with Steve Worrall in the team for the Latvian outfit.
And on Saturday Tarnow host Pila with both sides yet to get off the mark so far in 2023.
Attention is also turning to the start of the new Swedish Elite League (Bauhaus Ligan) season, which gets underway on Tuesday May 2 with seven clubs in the top-flight.
Masarna have withdrawn but the play-off format remains unchanged which means that only one team will be eliminated before the quarter-finals in mid-August.
Smederna are the defending champions and Lambert remains in their squad, but Bewley has left Eskilstuna and moved to Dackarna where he teams up with Janowski and Rasmus Jensen.
The title favourites are Vastervik, who have recruited Woffinden to make a return to Sweden, and also include both Chris and Jack Holder – although the elder brother is currently injured – along with Bartosz Smektala and Gleb Chugunov.
Last year's runners-up Lejonen are also expected to be strong contenders again, with a strong Polish top trio of Zmarzlik, Hampel and Dominik Kubera.
Meanwhile Rospiggarna have made wholesale changes and appear less strong than in recent years, although they have picked up Antonio Lindback from Masarna, whilst Indianerna have also seen several riders depart but do still retain Doyle and Max Fricke. Piraterna include both Pawlicki brothers but are without suspended duo Tomas H Jonasson and Rasmus Broberg.
The season starts on Tuesday with champions Smederna travelling to Rospiggarna, whilst Vastervik race at home to Lejonen and Indianerna face Piraterna.