EUROPEAN PREVIEW
Great Britain have four riders competing in this weekend's World Championship qualifiers at they look to book places in the GP Challenge later this year.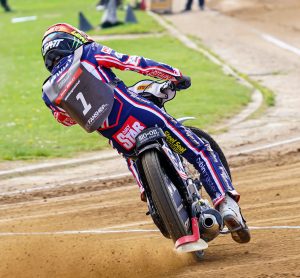 Image courtesy of Steve Hone Photography
The meetings take place on Saturday and Monday and there is no margin for error as only four qualifying places are available from each – and in the case of the event at Debrecen, that could reduce to three if there is the need for a Swedish rider to complete the Challenge line-up.
Saturday's meetings take place at Zarnovica and Lonigo, with Robert Lambert racing in the Slovakian event along with two of his current Grand Prix rivals, home favourite Martin Vaculik and Australia's Max Fricke.
Meanwhile Tom Brennan heads to Italy where he will be up against three former GP stars, Niels-Kristian Iversen, Oliver Berntzon and Piotr Pawlicki, along with his current Belle Vue team-mate Jaimon Lidsey.
On Monday the action switches to Debrecen with Adam Ellis in action along with his Sheffield colleague and current GP racer Jack Holder, with Michael Jepsen Jensen and Janusz Kolodziej also notable names in the line-up.
The final qualifier is at Abensberg which features Chris Harris along with two current GP riders, Jason Doyle and Kim Nilsson, along with another former series regular, Przemyslaw Pawlicki.
In the PGE Ekstraliga, this weekend's Round 7 meetings mark the halfway stage of the regular campaign, after which the aggregate bonus point will come into play.
Wroclaw hold a four point lead at the top of the table with a 100 per cent record so far, and they will be fully expected to extend that when they face Krosno at home on Friday.
Tai Woffinden and Dan Bewley line up in a full-strength line-up for the hosts, with GP rival Doyle amongst their opponents.
Friday's other meeting is also expected to be a convincing home win as second placed Lublin host rock-bottom Grudziadz, who have only scored one league point so far in 2023, and the hosts should be strong enough to boost their position despite Dominik Kubera continuing to be sidelined.
On Sunday, there are a couple of intriguing mid-table clashes with Gorzow only just inside the top six as they prepare to host Leszno, who are set to include new signing Adrian Miedzinski who makes his Ekstraliga return, effectively as a replacement for the injured Chris Holder.
And the clash between Czestochowa and Torun features two teams on equal points at this stage with Lambert looking for big performance against the likes of Leon Madsen, Mikkel Michelsen and the in-form Maksym Drabik.
Torun's Emil Sayfutdinov raced for Czestochowa ten years ago immediately prior to his first spell with his current club – but Torun have not won at Czestochowa since June 2014.
In Division One there are three fixtures on Sunday with unbeaten leaders Zielona Gora travelling to fourth placed Lodz.
With the Ostrow/Bydgoszcz fixture not taking place until July 1, other clubs can gain ground with the bottom four clubs all on four points, and all involved in matches against each other on Sunday.
Gdansk are currently placed fifth as they head to bottom club Poznan, whilst Landshut and Rybnik are sixth and seventh prior to their meeting in Germany.
There is only one fixture in Division Two this weekend as Gniezno, currently second from bottom, host second placed Rzeszow in a rearranged Round 5 clash.