EUROPEAN PREVIEW
Unbeaten Wroclaw face one of their toughest tests of the PGE Ekstraliga season when they visit second-placed Czestochowa on Sunday evening.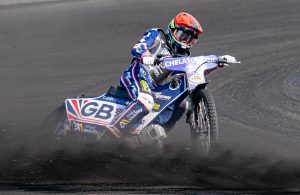 Dan Bewley and Tai Woffinden are both part of a team who have won all ten of their matches so far in 2023, and they hold a seven-point lead at the top of the league table.
Their play-off place is already secure but they are looking to go through all 14 matches with a 100 per cent record and the trip to Czestochowa is one of the most difficult on their schedule.
The hosts warmed up for the meeting with a 49-41 win at Krosno on Thursday, from which they also took the bonus point, with Leon Madsen top-scoring on 13 points.
Jason Doyle picked up 12 for the hosts but the meeting really turned on a Heat 11 incident, when the scores were 29-31, which left both home duo Krzysztof Kasprzak and Vaclav Milik out of the meeting, although both appear to have avoided serious injury.
The result leaves Krosno two points adrift at the foot of the table, with four matches remaining in order to save their league status.
The table-topping clash in Czestochowa also has a bonus point attached, with Wroclaw holding a narrow 46-44 advantage after being pushed all the way at home, and Bewley and Woffinden will face a tough battle against the likes of Madsen, Mikkel Michelsen, Kacper Woryna and Maksym Drabik.
Friday's schedule gets underway in Torun, who host Leszno with both sides still vulnerable if Krosno find some winning form – and in the wake of controversy over the Torun track in their home defeat to Czestochowa last weekend, Jan Zabik has been named as coach in place of Robert Sawina who has been suspended for a month by the League Adjudicating Committee.
Robert Lambert will hope for a good surface to bounce back from problems in his last two rides of that previous fixture, whilst Emil Sayfutdinov races against his former club. Leszno lead 49-41 for the bonus point.
Elsewhere on Friday, second placed Lublin host Gorzow who are also in the top four, with the home side looking to complete the double after their 48-41 away win earlier in the season. World Champion Bartosz Zmarzlik faces his former club after playing a starring role in that reverse fixture.
Sunday's other meeting sees Krosno travel to Grudziadz, with the visitors 49-41 up from the first leg in a crucial fixture at the bottom.
GKM have six points from their opening ten matches, two more than Krosno, so if they can claim all three on the day it will be a huge step towards Ekstraliga survival.
There are three fixtures in Division One which is effectively a catch-up round, with leaders Zielona Gora having won all ten of their matches so far, and they will expect to extend that record as they host bottom club Ostrow on Sunday.
That is the second meeting in two days for Ostrow as they have a home clash with third placed Bydgoszcz on Saturday, and a win in that meeting could take them above Lodz, Poznan and Gdansk.
However, Gdansk and Lodz then face each other in a Round 13 fixture brought forward from later in July, with that meeting also taking place on Sunday.
Round 9 of the Division Two schedule sees leaders Opole travel to Gniezno on Sunday, with Adam Ellis named at No.1 for the visitors in a meeting which includes his new Sheffield team-mate Josh Pickering.
Rzeszow are second in the table but are not in action this weekend so Daugavpils have the opportunity to go ahead of them, and Steve Worrall is in their line-up for a home match against bottom side Tarnow.
Meanwhile Drew Kemp and Dan Gilkes will both be in action at Rawicz on Saturday with Kemp lining up for the hosts and Gilkes riding for opponents Pila.
In the Under-24 Ekstraliga, Krosno continue to hold a comfortable lead at the top of the table after a 45-42 win over Leszno which saw the visitors take a couple of late 5-1s.
Ostrow were emphatic 55-35 winners in Wroclaw with Leon Flint scoring 7+2 for the visitors, whilst Connor Bailey did well to score 10 for the hosts. Elsewhere, Czestochowa were 50-39 winners over Lublin.
There was no Swedish League action this week as Fredrik Lindgren won the national championship, defeating Jacob Thorssell, Timo Lahti and Oliver Berntzon in the Final.