EUROPEAN PREVIEW
Great Britain's three Grand Prix stars will go head-to-head in PGE Ekstraliga action in Wroclaw this Sunday. The home side, who boast a perfect record of 11 wins out of 11 this season, face Torun on a weekend which could see them secure top spot in the league table ahead of the play-offs.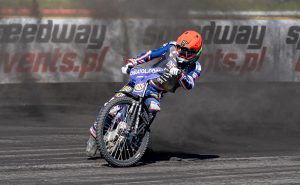 Image courtesy of Steve Hone Photography
Dan Bewley and Tai Woffinden line up for Wroclaw whilst Robert Lambert takes his place for Torun, some three weeks before all three are expected to be part of Great Britain's World Cup effort at the same venue.
Torun, meanwhile, start the meeting in fifth position in the table and look likely to finish in the play-off places, but still have work to do to ensure that outcome.
A home win also gives Wroclaw the bonus point following their 52-38 win in Torun earlier this season.
Second-placed Lublin will expect a win on the road as they travel to bottom club Krosno on Friday – and the bonus point is virtually guaranteed after they won the home clash between the sides 56-34.
Lublin are currently seven points behind Wroclaw at the top of the table, and are just two clear of Czestochowa who face an intriguing trip to Gorzow on Sunday, with the home side in fourth place.
The clubs drew 45-45 earlier in the season and another close meeting is expected between two sides who could yet meet again in the play-offs.
The second fixture on Friday is a crucial clash at the bottom where Leszno could take a giant step towards survival if they defeat Grudziadz – whilst an away win would keep the former champions under pressure.
Chris Holder is due back from injury as the Bulls return to near full strength, and they also hold a 50-40 advantage for the bonus point after an away win earlier in the season.
Round 12 of the Division One programme takes place across Saturday and Sunday, with leaders Zielona Gora defending an unbeaten home record when they take on fourth placed Gdansk.
The home side are ten points clear at the top of the table and will go into the play-offs in pole position, whilst the chase is currently on for second spot.
That is currently held by Rybnik on 16 points, and they face their closest challengers Bydgoszcz at home with the visitors two points behind in third place.
Elsewhere, a vital basement battle sees the meeting of the bottom two as Lodz, on seven points, race at home to Poznan who are currently on eight, whilst Ostrow take on Landshut with both teams at the lower end of the tight battle behind Zielona Gora.
Division Two remains a closely fought contest and it is currently led by Gniezno on 11 points, and they face a tough trip to third placed Rzeszow on Saturday.
Depending on the outcome of that meeting, top spot may become available to Opole, who are at home to fourth placed Daugavpils on Sunday with Adam Ellis and Steve Worrall both declared in the line-ups for their respective clubs.
Meanwhile the bottom two clubs meet on Sunday as Rawicz travel to Tarnow.
Round 12 of the Under-24 Ekstraliga saw Krosno maintain their lead at the top of the table with a 48-42 win at Grudziadz, for whom Jason Edwards scored 3+1.
That result enabled Ostrow to take over second place with a 48-42 home win over Gorzow, whilst Leszno were comfortable 56-34 winners over Czestochowa.
The biggest score of the night was recorded in the battle of the bottom two as Torun hammered Wroclaw 66-23 leaving the visitors point-less after ten matches.
In the Swedish Bauhaus-Ligan, only one match was staged on Tuesday in which Vastervik defeated Indianerna 34 with Woffinden scoring 9+3. There was also controversy over the carburettor measurements of the Indians' Bartek Kowalski – but they were subsequently found to be legal by the manufacturers.
Three meetings were completed on Wednesday and all provided relatively close contests, with Vastervik winning the return at Kumla 48-42, Woffinden scoring 12 points from six rides.
Elsewhere, Dackarna held on for a 47-43 win over Lejonen with Bewley scoring nine for the home side including three wins – although he ran a last in Heat 15 as Andzejs Lebedevs secured victory.
Meanwhile Rospiggarna defeated Piraterna 46-44 with the visitors finishing the meeting with a 4-2 and a 5-1 in the last two races.