EUROPEAN PREVIEW
As preparations continue for the FIM Speedway World Cup next week, there are also key league fixtures in Poland over the coming days before the focus switches to Wroclaw.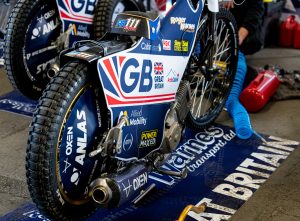 Image courtesy of Steve Hone Photography
The PGE Ekstraliga leaders themselves are in action on Friday when they travel to Leszno, still defending a 100 per cent record of wins this season as they head into Round 13.
And this may be one of their trickiest tests so far as Wroclaw will be without the injured Piotr Pawlicki – who is linked with a move back to his old club next year but misses the trip to the Alfred Smoczyk Stadium.
Tai Woffinden and Dan Bewley both line up for Wroclaw ahead of the World Cup, and amongst their opponents are Australia duo Chris Holder and Jaimon Lidsey, who have both been named in Mark Lemon's five-man team.
Meanwhile, Krosno's relegation will be confirmed should they fail to score at least two points from their trip to Torun – where they do have a ten-point advantage for the bonus point going into the meeting.
Robert Lambert is the third GB World Cup rider in Ekstraliga action on Friday as he lines up for Torun, and he too goes up against a top Australian star in Jason Doyle, who is reportedly interesting Grudziadz for next year.
That assumes GKM stay in the top-flight, which may be mathematically certain before Sunday, otherwise they can take care of their own business against Gorzow who are looking set to finish third or fourth in the regular table.
Meanwhile second placed Lublin, who are seven points behind Wroclaw, take on their nearest rivals Czestochowa, who have also safely confirmed their place in the play-offs.
In Division One, Zielona Gora will definitely top the table going into the play-offs where they look to book their place back in the Ekstraliga after a two-year absence.
They should add to their total as they visit bottom club Poznan on Sunday, although a home defeat will not mathematically relegate the hosts just yet.
Elsewhere, Rybnik are second in the table as they host Ostrow who are three points behind them, and the other Round 13 fixture sees Bydgoszcz, in third, taking on Landshut who are still in with an outside chance of being dragged down to the bottom.
Round 11 of the Division 2 schedule sees Adam Ellis line up for leaders Opole on Saturday as they travel to bottom club Rawicz in a meeting which offers the likelihood of an away win, with question marks currently over the plans for Rawicz next year under their current ownership.
Rzeszow are one point behind Opole but they have a more difficult away match at Daugavpils on Sunday, with the hosts including Steve Worrall in their team. Meanwhile also on Sunday Dan Gilkes is in action as Pila face Tarnow in a clash of two clubs just above the bottom place.
In Round 14 of the Under-24 Ekstraliga, Connor Bailey continued his excellent week after claiming the British Under-21 title with a 12+1 score for Wroclaw – although it wasn't enough for the bottom club to win, as they were defeated 41-49 at home by Gorzow.
That trimmed the gap at the top to eight points as leaders Krosno were held 45-45 at Torun, whilst Ostrow remain third after a 58-32 win over Czestochowa, with Leon Flint scoring 6+1 for the hosts and Sam Hagon scored 1 for the visitors.
Elsewhere, Jason Edwards scored 2+1 for Grudziadz, who edged out Lublin 46-44.
A busy week in the Swedish Bauhaus-Ligan saw Vastervik win the top-of-the-table clash with Dackarna on Tuesday with a 49-41 victory. Tai Woffinden scored 7+1 for the hosts with Dan Bewley on 6+1 from six rides for the visitors – but Bewley blasted back to form with a 13+2 paid maximum back at Malilla on Wednesday as his side defeated Rospiggarna 59-31 to go level on points at the top.
Rospiggarna had enjoyed success on the road with a 46-44 win at Piraterna on Tuesday, despite a 15-point maximum from Przemyslaw Pawlicki, whilst previous bottom club Lejonen enjoyed a stunning week with a 50-40 win at Indianderna on Tuesday followed by a 58-32 home success over Piraterna on Wednesday with Dominik Kubera scoring a 13+2 paid maximum, moving them up to fourth place.
Those results leave former champions Smederna bottom of the table after their match against Indianerna was postponed.