European Preview
Two World Champions will be crowned this weekend with Great Britain having a strong interest in both competitions.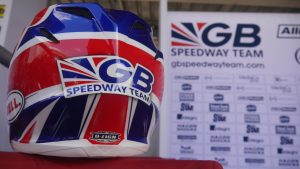 Image courtesy of Darren Bott
Dan Bewley is amongst the favourites for the FIM World Under-21 Championship, which takes place as a one-off event in Pardubice, Czech Republic on Friday – and Tai Woffinden is in the race for senior gold ahead of the final two rounds of the GP series in Torun, Poland over the next two nights.
Bewley was just beginning to make his mark on the U21 series in 2018, reaching the rostrum with a brilliant display in Leszno, but the severe injuries he suffered later that year effectively cost him the chance to build on that in '19.
Polish duo Maksym Drabik and Bartosz Smektala dominated the series for three years, but with the 2020 competition reduced to one round due to the pandemic, and no previous winners in the field, an open battle is expected.
Also absent is Gleb Chugunov, who won two rounds last year but became a Polish citizen last winter and is therefore not representing Russia.
Bewley's competition could well include his Aces team-mate Jaimon Lidsey, who reached the Final in the Pardubice round in 2019 and has been in superb Ekstraliga form this year.
Poland's Dominik Kubera is another contender and led the series going into last year's decider, but does not rank Pardubice amongst his favourite circuits.
Home star Jan Kvech cannot be discounted, and American Luke Becker will also be keen to make an impression in his debut appearance in the event.
Attention then switches to Torun with Round 7 of the GP series taking place on Friday evening, with Round 8 on Saturday.
Defending champion Bartosz Zmarzlik starts as favourite for the title having won three of the last four rounds, and he takes a seven-point lead over Fredrik Lindgren into the deciding meetings.
Woffinden is a further three points behind Lindgren – and whilst mathematically he could take the title if both he and Zmarzlik make the Final in both meetings, it would assist him greatly if Zmarzlik missed out at least once.
Torun has been on the GP calendar since 2010, and has staged the last round on five previous occasions. Woffinden has reached the semi-finals in the last four years, winning the event in 2018 as he clinched his third World title, and he was also second in 2017.
Zmarzlik has never won at Torun but has a consistent record of late, reaching the Final in three of the last four years, although his best result is third.
Lindgren has a quieter record at the venue with no Final appearances, going out in the semi-finals in 2016 and 2018.
The remaining top-six places are held by Maciej Janowski, Leon Madsen and Jason Doyle – with Martin Vaculik, Emil Sayfutdinov and Artem Laguta in the frame to challenge for automatic qualification for the 2021 series.
Woffinden and Bewley then return to Ekstraliga action on Sunday with the heavily delayed play-off semi-final second leg at Gorzow. The meeting has already been postponed twice, with Wroclaw just two points ahead from their home leg, and with champions Leszno awaiting the winners in next weekend's Final.
Meanwhile Robert Lambert's Swedish season has come to an end after Lejonen were eliminated in the semi-finals at the hands of his former club Masarna. Lambert scored 14 from five rides in the first leg, dropping his only point to Nicki Pedersen as Lejonen came from four points down at halfway to open up a 50-40 advantage.
But that ten-point margin proved nowhere near enough as Masarna hit back to win the return 59-31, Lambert scoring 9+1 for the visitors. Masarna now face Indianerna in the Final.
Polish Division Two action also continues this weekend, with Anders Rowe in action for Rawicz against Poznan on Friday.
And on Saturday, British youngsters Bewley, Tom Brennan, Drew Kemp and Jordan Palin compete in the Golden Ribbon as part of the Pardubice weekend. Chris Harris and Richard Lawson both feature in the Golden Helmet on Sunday.