EUROPEAN PREVIEW
Wroclaw duo Tai Woffinden and Dan Bewley launch their PGE Ekstraliga title defence this weekend, with fellow Great Britain star Robert Lambert also in action for Torun.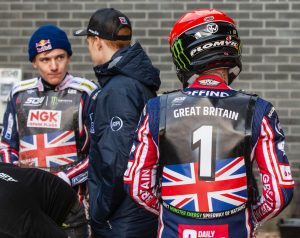 Image courtesy of Taylor Lanning Photography
Europe's premier domestic league relaunches with a major change to the play-off regulations, along with some unfamiliar line-ups due to the ban imposed on Russian riders.
With the likes of World Champion Artem Laguta, Emil Sayfutdinov and Grigory Laguta absent, clubs are expected to use the rider-replacement facility after a proposal to bring in lower-league guest riders was not accepted.
The format change now sees the top six clubs qualifying for the play-offs, rather than the top four, and all six will compete at the quarter-final stage with the three winners and one 'lucky loser' (the highest scoring team to be defeated) forming the line-up for the semis.
Woffinden and Maciej Janowski remain the elder statesmen for Wroclaw in the absence of Laguta, whilst Gleb Chugunov is available to join Bewley in the middle-rider as he is now declared as Polish. At reserve, Bartlomiej Kowalski comes in from Czestochowa, who are themselves well-stocked in that position.
Lambert is back for a second season with Torun, who looked to have assembled their strongest squad for several seasons after bringing in both Sayfutdinov from Leszno and former World No.2 Patryk Dudek from relegated Zielona Gora. Even with r/r for Sayfutdinov, their prospects still look encouraging as they also include GP newcomers Jack Holder and Pawel Przedpelski.
Last year's runners-up Lublin are also expected to be in the mix despite the loss of Grigory Laguta, and much could depend on the arrival of former World Under-21 Champion Maksym Drabik after his year-long suspension and departure from Wroclaw.
SEC winner Mikkel Michelsen, Jarek Hampel and Dominik Kubera are all key figures, with Wiktor Lampart and Mateusz Cierniak still in place as the strong reserve combination.
Gorzow are unaffected by the Russian situation, and as ever are led by double World Champion Bartosz Zmarzlik with Martin Vaculik and Anders Thomsen completing a trio of GP stars. They still have Szymon Wozniak, whilst a new look at reserve should include Mateusz Bartkowiak who is in from Grudziadz, and highly rated Oskar Paluch turns 16 in June. Patrick Hansen has signed from Ostrow and should take the U24 position.
Leszno were the dominant force with four successive titles before being knocked off their perch last year, and the departure of Sayfutdinov – after youngsters Bartosz Smektala and Kubera left one year earlier – means it's now a rebuilding phase for the club.
Jason Doyle, Piotr Pawlicki and Janusz Kolodziej are joined by new signing David Bellego, stepping up to the Ekstraliga for the first time, and Jaimon Lidsey is set to complete the top five once more – but they don't appear to have the strength at reserve which marked out their title triumphs.
Czestochowa are virtually unchanged from 2021, with Leon Madsen and Freddie Lindgren their senior figures and the Swede will be looking for a better league season this time around.
One area in which the Lions will surely score heavily is at reserve, with World Under-21 Jakub Miskowiak and Mateusz Swidnicki likely to be the league's strongest combination in that department.
Grudziadz dramatically secured survival last season at the expense of Zielona Gora, and that will be their aspiration once more with a similar squad fronted by Nicki Pedersen, Przemyslaw Pawlicki and Krzysztof Kasprzak. Kenneth Bjerre has departed for Division One Bydgoszcz, with fellow Dane Frederik Jakobsen joining the squad.
Their battle is likely to be with promoted Ostrow, who have kept faith with the majority of the squad which got them out of Division One. The major incoming rider is former World Champion Chris Holder, who joins from Torun, and he effectively replaces Hansen – whilst Grzegorz Walasek, Nicolai Klindt and Oliver Berntzon remain with the club.
Ekstraliga sides will also operate a new Under-24 competition, raced on Tuesdays, and several British riders are included in the squads.
Jack Smith is at Wroclaw, Anders Rowe is with Gorzow, Jordan Jenkins is at Czestochowa, and Jason Edwards has joined Grudziadz as all look to make their mark.
In Division One, Leon Flint remains in the Rybnik squad and will hope for opportunities at that level with Patryk Wojdylo his counterpart in the U24 position, and Drew Kemp has a similar spot at Gdansk alongside Viktor Trofimov and Piotr Gryszpinski. Meawhile Jack Thomas will gain experience at Lodz, in a squad which also includes Luke Becker at U24 level, as well as Brady Kurtz and Niels-Kristian Iversen as seniors.
Relegated Zielona Gora have retained the services of Max Fricke and long-serving Piotr Protasiewicz, with Krzysztof Buczkowski and Rohan Tungate coming into a strong line-up.
Krosno's challenge is fronted by Tobiasz Musielak and Andzejs Lebedevs, whilst Bjerre teams up with Matej Zagar and Adrian Miedzinski at Bydgoszcz. Meanwhile Gniezno have brought in Michael Jepsen Jensen along with Peter Kildemand, and they have also declared Antonio Lindback.
Promoted Landshut have retained the bulk of their 2021 line-up with Mads Hansen joining a squad which also includes Dimitri Berge, Kai Huckenbeck and Martin Smolinski.
There are seven clubs in Division Two, including Pila making a return to league competition whilst Wittstock have dropped out.
Great Britain are represented by Adam Ellis at Daugavpils and Chris Harris at Poznan, where the latter teams up with Rune Holta and Kacper Gomolski. Opole, Rawicz and Rzeszow complete the league line-up along with relegated Tarnow.
Ekstraliga action this weekend features Czestochowa v Leszno and Gorzow v Lublin on Friday, whilst Sunday's schedule sees Ostrow take on Grudziadz, and the match of the weekend sees the British riders all on track for Wroclaw v Torun.
All eight clubs in Division One ae also in action across the weekend, with Zielona Gora opening up against Gniezno, whilst there are meetings in Division Two at Rzeszow and Tarnow on Saturday.