EUROPEAN PREVIEW: Speedway Grand Prix
Speedway's Individual World Championship moves into a new era this Saturday with the Croatian Grand Prix kicking off the new season under new rights holders.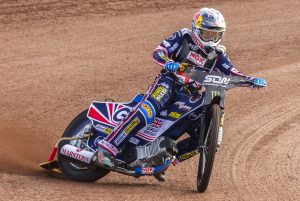 Image courtesy of Taylor Lanning Photography
Discovery Sports Events have taken over the running of the series and are set to bring plenty of innovation to the competition.
Ten rounds are currently scheduled with the Russian event in July suspended, and a slot remaining for Oceania in November.
Gorican is back on the calendar for the first time since 2012, when Nicki Pedersen was the winner ahead of Andreas Jonsson and Tomasz Gollob.
Only two riders who competed in that meeting are now involved – Fredrik Lindgren, who made the semi-finals before crashing out, whilst Martin Vaculik scored eight points having come into the series in mid-season due to injury for Jarek Hampel.
There are three regular Grand Prix competitors from Great Britain with Tai Woffinden looking to return to medal contention after finishing sixth last year – and to take a first GP meeting victory since Torun 2018.
The challenge for Robert Lambert is to build on last year's tenth place in the standings, including a strong run in the final three rounds which assured him of a return to the competition this year – and Dan Bewley steps up from his initial reserve berth following the suspension of Russian duo Artem Laguta and Emil Sayfutdinov.
That means only former champion Bartosz Zmarzlik from last year's top three takes his place, and it may well offer opportunities to the likes of Lindgren, Maciej Janowski and Leon Madsen to mount a title challenge.
This weekend's action in the PGE Ekstraliga takes place either side of the Grand Prix, with the leaders Lublin defending their 100 per cent record at Torun on Sunday evening.
Lambert lines up at No.1 for the home side and will go up against GP rival Mikkel Michelsen and also double Under-21 World Champion Maksym Drabik, who won the title at the same time Lambert was also competing at that level.
Drabik has made a spectacularly successful return to the sport this season, whilst the Lublin team also includes newcomer Fraser Bowes, who replaces the injured Mateuz Tudziez and could get rides on the day depending on the fitness of Dominik Kubera after last week's crash.
Meanwhile Wroclaw are also in action on Sunday, as they race at Czestochowa in an interesting fixture on paper with both sides stuck on two points from three matches.
Woffinden is at No.1 for the visitors and it looks likely that Bewley will take the No.8 berth, giving them additional options as they continue to operate rider replacement for Laguta.
Meanwhile on Friday Leszno will expect to take over top spot for 48 hours at least, as they take on Ostrow, who are yet to get off the mark after three defeats so far – and Grudziadz host Gorzow hoping for a repeat of their recent win over Wroclaw.
Last year's relegation battlers are up in third place in the early table, one point and one place ahead of their opponents.
There are just three fixtures in Division One this weekend with Lodz looking to take over at the top as they visit Krosno on Sunday. If they do not win that meeting, relegated Zielona Gora could be top themselves at they race at home to Gdansk in the earlier fixture.
Meanwhile the re-arranged Rybnik/Krosno fixture is scheduled for Monday.
In Division Two, Adam Ellis is in action for Daugavpils at home to Rzeszow on Sunday, whilst the other fixture on the day features early leaders Poznan against Opole. On Saturday, Tarnow host Pila.
Several British riders were in action in the first round of the Under-24 Ekstraliga in midweek, with Anders Rowe taking pride of place for his 12-point maximum in Gorzow's 67-21 thrashing of Lublin.
Elsewhere, Jordan Jenkins scored 5+1 in Czestochowa's 36-54 home defeat against Leszno, whilst Kyle Bickley collected 6+3 in a huge 60-26 away win for Torun against Wroclaw, raced at Opole. Jack Smith scored four for the hosts.
This weekend features the first qualifying round of the Speedway Euro Championship on Saturday, taking place at German venue Stralsund.
Jordan Palin takes his place at No.2 representing Great Britain, with strong opposition to come from the likes of SEC regulars Bartosz Smektala, Kai Huckenbeck and Timo Lahti, along with Danish duo Rasmus Jensen and Frederik Jakobsen.