EUROPEAN PREVIEW: European Pairs
Great Britain race in the FIME European Pairs semi final at French track Macon on Saturday evening, GB will feature Adam Ellis, Chris Harris and Tom Brennan - the same trio that won the this event last season in Hungary.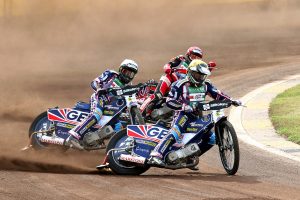 Round 13 of the PGE Ekstraliga this weekend may well see the major issues decided in terms of play-off qualification.

Lublin, Czestochowa and Gorzow have all booked their places, and Lublin continue to be unbeaten with 11 wins and one draw so far – although this Sunday they face one of their toughest tests with an away trip to Czestochowa, who have moved into second place.

Leszno and Torun are not quite mathematically confirmed, but that should be resolved this weekend – certainly in the case of Torun, who visit Ostrow on Friday to face a home side who have still to even score a single league point.
And as transfer speculation continues to surround several riders in the league, Robert Lambert has ensured continuity to his Polish career by signing a new two-year contract with Torun, having become one of the club's most important riders after enjoying a very successful 2022 season.
Leszno visit Gorzow on Sunday but are likely to be confirmed in the play-offs before turning a wheel, whilst the key fixture of the weekend is Wroclaw v Grudziadz – the two clubs who are either side of the dividing line.
Wroclaw are strong favourites with 12 points on the board, whilst Grudziadz have nine, so the defending champions should be able to complete the job of squeezing into the top six.
A win will confirm it regardless of the aggregate bonus situation, where Grudziadz have a 49-41 advantage from a home win in Round 2.
Tai Woffinden will look to keep up his strong form ahead of the Speedway of Nations, with Dan Bewley set to make his first home appearance since his heavy crash three weeks ago – and they should be able to see of the weakened Grudziadz side who are still missing the scoring power of Nicki Pedersen.
In Division One, the play-off places are confirmed ahead of Round 14, with Bydgoszcz looking to confirm league leadership which they will secure if they beat Landshut at home.
Should they suffer a surprise slip-up, Zielona Gora can take over if they win at Gniezno – who could already be relegated by that stage.
The opening meeting of the weekend sees Rybnik host Lodz, who along with Krosno have now qualified in the top six. Rybnik are one point ahead of Gniezno heading into the weekend.
Therefore, a Rybnik victory and the bonus point – they trail 51-39 – will relegate Gniezno, but they must also be aware that a Gniezno win in their fixture will be worth three points, as they grabbed as shock 45-45 draw at Zielona Gora in Round 1.
The race for the first four positions in Division Two will also be confirmed this weekend, with Rawicz in the driving seat as they host bottom club Pila. Tom Brennan is declared in the line-up for the home side, in the week where he has also been confirmed as the Wild Card for the SGP2 round at Cardiff on August 14.
Poznan are at home to sixth-placed Tarnow, and third-placed Opole are at home to Rzeszow, with the top four clubs – including Daugavpils who are inactive this weekend – all on 18 points.
In Sweden, Lambert and Bewley returned to the Smederna side for their Bauhaus-Ligan victory over Indianerna on Tuesday, with the home side winning 54-36 in a meeting delayed due to the weather.
Bewley top scored with 14 points including four wins, and his only on-track defeat came at the hands of Max Fricke in Heat 5, as he also suffered a tapes exclusion in his third ride.
Lambert, meanwhile, scored 5+1 from four rides – but only two of them were completed as he also suffered two falls having been caught out by conditions, coming to grief in Heat 3 and Heat 12.
Elsewhere, Rospiggarna raced to a big 58-32 win over Masarna, whilst Vastervik edged out Dackarna 46-44.