EUROPEAN PREVIEW - GB Semi Final/SGP Sweden
Great Britain bid for a place in the FIM European Pairs Final when they contest Saturday's first semi in Finland. Tom Brennan, Chris Harris and Jordan Jenkins represent GB at the Varkaus venue as they look to reach the Final at Opole on October 1.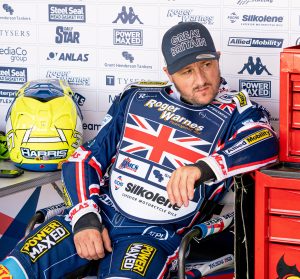 Six nations are competing with the strongest challengers on paper being the Danish side, who have nominated Mads Hansen and Rasmus Jensen.
Host nation Finland are represented by Jesse Mustonen, Antti Vuolas and Timi Salonen, whilst Sweden track Daniel Henderson, Anton Karlsson and Joel Andersson.
The line-up is completed by Norway and a combined Finland/Latvia pairing, with the top three making it through to the Final.
The second semi-final takes place at Hungarian venue Nagyhalasz on September 2.
Meanwhile the build-up to the FIM Swedish Grand Prix includes the SGP3 Final at Malilla on Friday with British youngsters William Cairns and Cooper Rushen both riding superbly in their semis to comfortably qualify.
The inaugural SG4 event on 190cc machinery also takes place on the nearby training track on Saturday with Oliver Bovingdon representing GB.
The Swedish GP once again takes place at Malilla, having been on the calendar at the Skrotfrag Arena in all but two seasons since 2005.
Reigning World Champion Bartosz Zmarzlik takes a 21-point lead into the meeting and therefore will definitely retain the advantage overall regardless of the outcome of the event.
And more bad news for his rivals is that the Pole is a three-time previous winner at Malilla, taking top spot in 2017, 2021 and 2022 – the latter seeing him secure his third World title in the penultimate round.
Only three members of the current SGP field have tasted victory at the venue, with Fredrik Lindgren giving Sweden a home winner in 2019, whilst Tai Woffinden was successful back in 2014.
Robert Lambert is the highest placed GB rider in the series as he sits in the all-important sixth place on 54 points, three points ahead of Martin Vaculik.
Lambert has made the last three semi-finals, and that was also his result at Malilla in 2022 when he scored 11 World Championship points.
Meanwhile Dan Bewley is currently in eighth place on 49 points, five behind Lambert, after missing the semis for the first time this year last time out in Gorzow.
He will be on his home Bauhaus-Ligan track as he rides for Dackarna in the Swedish league, although in GP terms the venue has not been kind to him so far, as he only scored two World Championship points there last year which ultimately proved the difference in the fight for an overall top three finish.
Woffinden is ninth overall heading into Round 6 of the series having made the semi-finals in Gorzow, although he has a 13-point gap to bridge in order to get back into the top six.
He will take encouragement from his record at Malilla which features three appearances in the Final including his 2014 victory and a fourth-place finish last year.
Home rider Kim Nilsson misses the event due to injury following a crash at the end of June which could leave him sidelined for up to two months. He is replaced by first series reserve Andzejs Lebedevs, who will be competing on his home track in Sweden.
Bewley raced on Tuesday in the Bauhaus-Ligan despite his heavy crash at Wolverhampton 24 hours earlier, although he only took three rides for Dackarna at Lejonen as the visitors were able to rest him with a clear advantage.
Bewley won his three riders for a nine-point 'maximum' before being replaced in Heat 12 with Dackarna 40-26 ahead at the time. They went on to record a 52-38 win with Lebedevs top-scoring on 13+1.
Dackarna are now two points behind leaders Vastervik, with Lejonen bottom of the table ahead of next week's double round of fixtures.
There are no meetings in the PGE Ekstraliga this weekend, with the Round 13 fixtures taking place over July 21/23.
Division One also has a blank week in terms of scheduled fixtures, but on Sunday there is a re-arranged match between Lodz and Ostrow after a postponement in mid-June.
Lodz lead 26-21 for the bonus point after an away win in the reverse fixture when the weather intervened and forced an abandonment after Heat 8.
A home victory would all-but guarantee their survival in Division One and significantly increase the odds on Poznan suffering the drop.
Division Two action also resumes next weekend, with news that the league could return to eight clubs next season with a likely comeback for Krakow, who last raced in 2019.
Round 13 of the Under 24 Ekstraliga featured two 45-45 draws, including between the top two who shared the spoils as Krosno and Ostrow could not be separated on the night.
Ostrow scored 4-2s in the last two races to level up, although they trail by nine points in the league table. Leon Flint failed to score from three rides for the visitors.
Elsewhere Lublin produced a remarkable comeback to draw 45-45 with Leszno despite having been ten points down with three races remaining.
That result means Lublin are above Torun in seventh place on points difference after Torun lost 50-40 at Gorzow, whilst Czestochowa defeated Grudziadz 49-41. Wroclaw remain bottom having lost all 11 of their matches, but they did not race this week.