EUROPEAN PREVIEW - PGE Ekstraliga
Great Britain duo Robert Lambert and Dan Bewley are both in home-track action this weekend in the fourth round of the PGE Ekstraliga.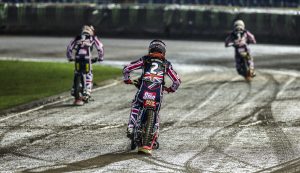 Image courtesy of Taylor Lanning Photography
Great Britain duo Robert Lambert and Dan Bewley are both in home-track action this weekend in the fourth round of the PGE Ekstraliga.
Lambert's Torun side face Grudziadz in the opening meeting on Friday, whilst Bewley races for Wroclaw in an eagerly awaited clash with champions Leszno on Sunday evening.
Torun have made a solid start to life back in the top-flight, taking Leszno to a last-heat decider away from home last weekend, and will be confident of seeing off the side who are currently bottom of the table on race-points difference.
However, they will be mindful of the fact that in a disastrous 2019 season they slipped to a shock 44-46 home defeat in the equivalent fixture when Grudziadz duo Przemyslaw Pawlicki and Artem Laguta held off Niels-Kristian Iversen in Heat 15.
Lambert looks set to race in the No.8 role again, which is likely to see him meet his SEC rival Nicki Pedersen in Heat 3, and they would also clash in Heat 10.
Pedersen has recently been confirmed as one of the five definite SEC starters so far – as although he missed out in a run-off for fifth place overall last year, he has now been promoted as Grigory Laguta has pulled out of the competition.
Defending champion Lambert, Leon Madsen, Mikkel Michelsen and Bartosz Smektala join Pedersen, with the SEC Challenge scheduled for Krsko on May 22.
The Wroclaw/Leszno fixture promises plenty of drama, and the home side are once again under pressure with the rider-replacement facility in operation for the injured Tai Woffinden.
Last season's meeting was a thriller as Leszno's 13-match winning run coming to an end as Woffinden and Max Fricke combined to squeeze out Janusz Kolodziej in Heat 15 for a 46-44 Wroclaw victory.
Bewley and Gleb Chugunov will once again be expected to provide the bulk of the back-up for Maciej Janowski and Artem Laguta, and they will face some tough races against the powerful Leszno top order.
Elsewhere this weekend, the Friday evening match sees Zielona Gora going up against Lublin.
And Sunday's other meeting features leaders Gorzow at home to Czestochowa – a meeting the visitors have not won since 2013, although they did grab a 45-45 draw two years ago.
A busy weekend of catch-up matches in Division One kicks off on Thursday with Bydgoszcz hosting Ostrow as both clubs look for their first win of the season; although the fixture between Gniezno and Lodz has been postponed.
Lodz are due to visit Krosno on Saturday, whilst on Sunday Krosno face Bydgoszcz and Monday features Ostrow v Gniezno.
With Gniezno then racing at home to leaders Gdansk on Tuesday, it means the league should be only two meetings short of completing its first four rounds – the additional re-arrangement being Rybnik v Ostrow which is scheduled for May 10.
Division Two action also gets underway this Sunday, although the league is down to six clubs after German outfit Wittstock confirmed their withdrawal.
Rawicz (Anders Rowe) and Rzeszow (Adam Ellis) both have GB riders in their squads for this season, with the latter taking on Latvian side Daugavpils, whilst Rawicz head to Opole.