EUROPEAN PREVIEW - PGE Ekstraliga
Robert Lambert is the first of the Great Britain riders into action on a full schedule of PGE Ekstraliga meetings which also sees the return of supporters.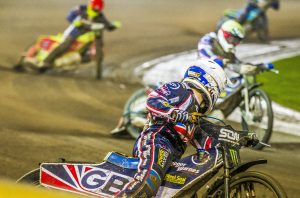 Image courtesy of Taylor Lanning Photography
Poland's top league put their Friday schedule back by one day in order that all home clubs could benefit from the relaxation of restrictions which comes into effect on May 15.
Lambert races in the Sunday afternoon fixture as Torun look to build on their encouraging start to the season with a home match against under-pressure Czestochowa.
Torun have won both of their home matches so far, and also performed with credit at Wroclaw and Leszno, and they will be optimistic of inflicting more problems on the visitors, who have lost three of their four matches so far.
Lambert will again race at No.8, meaning his likely schedule includes two races against Grand Prix rival Fredrik Lindgren in Heats 3 and 10, and a Heat 11 encounter with Leon Madsen – whose uncharacteristic score of seven in last Sunday's home defeat by Wroclaw met with a strong response from club bosses.
The evening fixture is arguably the clash of the round as unbeaten leaders Gorzow visit Wroclaw, who hold fourth position despite losing Tai Woffinden to injury in his first ride of their second meeting.
GB star Dan Bewley has played an important role in keeping Wroclaw in contention over that period, including his 8+1 score in last week's win at Czestochowa.
Bewley faces a super-tough opening ride in Heat 3 when he faces World Champion Bartosz Zmarzlik and Anders Thomsen, with Martin Vaculik to follow in his next outing!
Having returned to the UK on Thursday to appear at Belle Vue's press day, Bewley will be back to Manchester for the Aces' Premiership opener against Sheffield on Monday – and a big date on his calendar is set for next Saturday (May 22) as he competes in the SEC Challenge at Pardubice.
This Saturday, Leszno can move into the top four with a home win over Zielona Gora, for whom Piotr Protasiewicz has not been declared in their line-up thus far.
ZG have two points along with Czestochowa and Grudziadz, who face Lublin on Saturday evening and also could be set for changes with Krzysztof Kasprzak and Norbert Krakowiak absent from their initial declaration, and Pawel Miesiac included.
There are six fixtures over the coming days in a busy Division One schedule, with early leaders Krosno racing at unbeaten Gniezno on Monday – who have two home matches in two days, with Lodz visiting on Tuesday.
Niels-Kristian Iversen has been declared back in the Tarnow side for Saturday's clash with Ostrow as both sides look to get off the mark, although Rohan Tungate is ruled out after being one of several riders to crash in Denmark on Wednesday.
Either Gdansk or Lodz could take over top spot on Saturday following their meeting, whilst Bydgoszcz host Rybnik on Sunday, with Rybnik then at home to Ostrow on Tuesday.
In Division Two, Adam Ellis has his first meeting of the season on Sunday as Rzeszow travel to Rawicz – and Ellis will then return to the UK to compete for Sheffield at Belle Vue on Monday. Opole take on Poznan on Saturday.