EUROPEAN PREVIEW: PGE Ekstraliga
Great Britain duo Tai Woffinden and Dan Bewley will go for PGE Ekstraliga glory with Wroclaw on Sunday.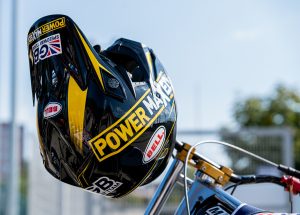 Image courtesy of Steve Hone
The second leg of the Final takes place on Sunday with Wroclaw on home territory against Lublin after a tremendously exciting 45-45 draw in the away leg on Thursday – which actually ended their 13-match winning run.
The hosts battled strongly in the absence of the injured Grigory Laguta, and their late comeback means the Final is all square at the halfway stage.
Woffinden opened the meeting with a win in Heat 1 over Dominik Kubera, who was a key performer at reserve for the hosts and ended with a score of 16+1 from seven rides.
Bewley finished second to Krzysztof Buczkowski in Heat 4, just missing out on passing the Pole, and he then led Kubera for two laps in Heat 5 until his rival burst through on turn two.
Wroclaw extended their lead to four points when Woffinden passed Mateusz Cierniak for third place in Heat 6, but it was back to two before Bewley brilliantly won Heat 11 ahead of Mikkel Michelsen, with Woffinden getting the better of Kubera for third.
A Wroclaw 4-2 in Heat 13 gave them a 42-36 lead and whilst Kubera rode in the last two races for Lublin, it was surprising that Michelsen did not join him on both occasions as the tactical substitute was available.
If that was the talking point before the race, it was Bewley's ride which had everyone talking afterwards as he rode the air-fence for virtually the entire four laps, getting clear of Jarek Hampel on lap two and then throwing everything at Kubera with the Lublin rider holding on.
Hampel took third place over Woffinden, who finished on seven points, whilst Bewley picked up an excellent 10+1 from five rides.
Michelsen and Kubera then brought the meeting back level in Heat 15 with a 5-1 over Maciej Janowski and Gleb Chugunov, with the gold medal to be decided on Sunday – along with bronze, where Gorzow have a 49-41 advantage ahead of their home match with Leszno.
The battle to reach the Ekstraliga also reaches the critical stage this Sunday as Ostrow host Krosno in the first leg of the Final.
Both sides scored 24 points in the regular league stage, and on their last visit in April Krosno recorded a 46-44 away win at Ostrow thanks to a last heat 5-1 from Andzejs Lebedevs and Tobias Musielak, before winning the home meeting 50-40.
Prior to that, Sunday lunchtime sees the first leg of the Division Two Final with Landshut taking on Opole.
The Polish side scored a convincing 54-36 victory on their last visit to the German venue, before completing the double in the return 51-39, and much could depend on the fitness of Martin Smolinski for Landshut.
Woffinden is also still in with a chance of taking gold in Sweden as he led Dackarna into the Elitserien semi-finals with a comfortable aggregate victory over Lejonen.
Dackarna won the second leg 56-34 to take the tie 104-76 on aggregate, with Woffinden scoring 13 from five rides in a powerful team performance which also saw Jacob Thorssell and Jason Doyle score heavily.
Robert Lambert scored nine points for Lejonen as their season came to an end in the quarter-finals.
The other tie resulted in a 47-43 win for Rospiggarna at Vetlanda, which gave them a ten-point margin of aggregate victory.
Next week's semi-finals will feature Rospiggarna hosting Smederna in the first leg, whilst Dackarna take on Vastervik on Tuesday, and those fixtures are then reversed on Wednesday.
Meanwhile Mads Hansen holds the advantage heading into the second round of the World Under-21 Championship at Krosno on Saturday.
Hansen beat Polish duo Jakub Miskowiak and Wiktor Lampart in the Final at Stralsund earlier this month, and all are expected to be amongst the contenders again as the series moves towards the finale in Pardubice next Friday.