EUROPEAN PREVIEW: SEC Challenge
Great Britain's Adam Ellis has received a late call-up to the SEC Challenge at Krsko on Saturday.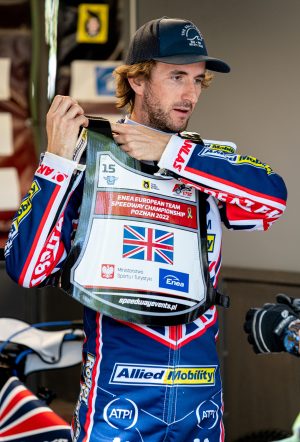 Image courtesy of Steve Hone Photography
Ellis was set to travel to Slovenia as first reserve for the event, but has now stepped up into the main line-up following the injury withdrawal of Janusz Kolodziej after a crash at Leszno last weekend.
Five places are up for grabs in the main SEC series which starts in Rybnik on July 2 and then takes in rounds at Gustrow, Lodz and Pardubice.
Competition will be fierce with SEC regulars Vaclav Milik, Bartosz Smektala, Michael Jepsen Jensen, Kai Huckenbeck and David Bellego all included, along with 2017 champion Andzejs Lebedevs, Polish star Dominik Kubera and Denmark's Rasmus Jensen.
Meanwhile Tai Woffinden staged a hugely successful 10-year Testimonial event at Wroclaw on Thursday – and it was a British one-two at the end of the night.
Robert Lambert took victory with a fast start from gate one in the Final, edging out Dan Bewley who had led the qualifiers with a most impressive 14 points. Bartosz Zmarzlik was third and Patryk Dudek was fourth.
Lambert achieved his win despite a heavy crash in his third ride when Gleb Chugunov dropped a chain directly in front of him, whilst Woffinden's chances of making the Final ended with a spectacular spill in his fourth outing, although he was quickly back on his feet.
Midweek action in the Under-24 Ekstraliga saw a 52-38 win for Ostrow at Gorzow, but Anders Rowe top scored for the hosts with 10+3 from six rides.
Elsewhere, Grudziadz defeated Leszno 54-36 with Jason Edwards scoring 4+2 from five rides, and Wroclaw won 53-37 at Lublin although Jack Smith failed to score from two outings. Torun beat Czestochowa 53-37 in a match with no GB involvement.
In Sweden, Smederna won a weather affected clash 25-23 at Dackarna with the meeting being abandoned after eight races and the result standing. Bewley had scored 7+1 from three rides, including two race wins, and Lambert scored four from two.
Elsewhere Rospiggarna defeated Vastervik 52-38, and Lejonen were 50-40 winners at Masarna with Zmarzlik scoring a paid maximum, whilst on Thursday Indianerna were 48-41 winners at Piraterna.
This weekend's Ekstraliga action starts on Friday with leaders Lublin taking on bottom club Ostrow – and a home win will still be very much expected despite Mikkel Michelsen being ruled out with a knee injury after a crash in Denmark on Wednesday.
Also on Friday, Grudziadz host Czestochowa with the sides currently fifth and fourth in the table and the home side having already won three matches this season, although they remain without Nicki Pedersen on a long-term basis.
Woffinden and Bewley head to Gorzow with Wroclaw on Sunday for what would normally appear to be one of the matches of the season, especially with numerous clashes between Grand Prix riders on the agenda.
However both sides have been hit by injury with Gorzow's Anders Thomsen concussed in the same accident as Thomsen, whilst Chugunov is a doubt for Wroclaw due to the shoulder injury he sustained on Thursday.
Lambert, meanwhile, has a home fixture on Sunday for Torun against second-placed Leszno, who will without Kolodziej – and it could therefore be a chance for the hosts to climb back into the play-off places.
In Division One, Bydgoszcz and Zielona Gora lead the way on 15 points apiece, and it's ZG who race first this weekend as they host mid-table Lodz on Saturday. Bydgoszcz then have an interesting home match against third-placed Krosno on Sunday.
Meanwhile bottom club Gdansk host fourth placed Landshut, and on Monday two more struggling sides meet as Rybnik travel to Gnieszno.
There are two matches in Division Two, including a clash of the teams in second and third places as Rawicz race at Poznan on Saturday. The other fixture sees seventh placed Tarnow host Rzeszow, who are just one point ahead.