EUROPEAN PREVIEW: SGP Cardiff
Great Britain have four riders warming up for their home Grand Prix, and two more competing in the follow-up SGP2 event.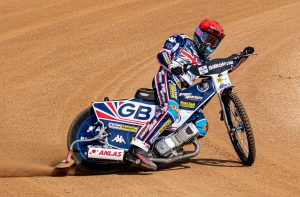 Images courtesy of Steve Hone Photography
The sport returns to the Principality Stadium, Cardiff for the first time since 2019 with the British Grand Prix taking place on Saturday, whilst the sport's under-21 stars take centre stage on Sunday afternoon.
GP regulars Tai Woffinden, Robert Lambert and Dan Bewley all go for gold in front of their home supporters, and they will be joined by Wild Card entry Adam Ellis, who makes his first full GP appearance after appearing as a track reserve in 2017.
Woffinden is the highest placed rider in the standings, having accumulated 50 points from the first five rounds which puts him sixth overall. Lambert is ninth on 47 and Bewley is 11th on 44, but with third placed Martin Vaculik ruled out by injury, positions could change quickly. The Slovakian is replaced by series reserve Andzejs Lebedevs.
Bartosz Zmarzlik leads the title race on 78 points, 18 clear of Leon Madsen, and has always reached the Final in his five previous Cardiff appearances, including a win in 2018. Madsen, meanwhile, won the last event at the Principality in '19.
Woffinden has never won the British Grand Prix, but has finished runner-up on three occasions, most recently in 2018.
Sunday's SGP2 event is the second of a three-round series, with Poland's Mateusz Cierniak leading the standings after his win in Prague in May, when he passed Francis Gusts on the last lap of the Final.
The good news for Great Britain is that they now have two representatives in the meeting. Tom Brennan, unlucky to miss out on a place in the full series, had been named as Wild Card, but now steps in as reserve due to the broken collarbone suffered by Timi Salonen in the SON Final last month.
That means the Wild Card berth now goes to Leon Flint, who was recently crowned British Under-19 Champion.
Brennan and Flint are also track reserves for the senior British GP, whilst those positions in the SGP2 event are taken by Drew Kemp and Jason Edwards.
Ellis, meanwhile, made his first appearance in the Swedish Bauhaus-Ligan for Rospiggarna on Tuesday, scoring 4+1 from three rides in their 49-41 win over his former club Piraterna.
That included an important paid win in Heat 5 when he combined with Kim Nilsson for a 5-1 over Rasmus Broberg and Jakub Jamrog which put the home side ahead.
Elsewhere, Dackarna were the big scorers of the round with a 59-31 win over Masarna, but they were then beaten 55-35 in Lejonen on Thursday. Vastervik defeated Indianerna 53-37 in a celebration of 100 years of the club
In the Under-24 Ekstraliga, Ostrow moved to the top of the table with a 48-42 win over Czestochowa in this week's single fixture.
The play-off Final is now certain to take place between Ostrow and Leszno, but all teams have one more round of fixtures to complete before that on August 16.
Meanwhile, two of three play-off quarter-finals in Division One will be finalised this weekend.
League leaders Bydgoszcz host Gdansk on Friday and will be expected to progress, as they only face a narrow 43-46 deficit from the first leg.
Elsewhere Krosno take on Landshut on Sunday and are in control of the tie after winning 50-40 in Germany last weekend.
The return clash between Zielona Gora and Lodz takes place on August 19.
In Division Two, the first leg of the second semi-final between Daugavpils and Opole is scheduled for Sunday, meaning a quick turnaround for Ellis after the GP.