EUROPEAN PREVIEW: SGP Challenge - Glasgow
The FIM Grand Prix Challenge comes to Great Britain on Saturday with Glasgow hosting one of the most exciting and cut-throat events of the season.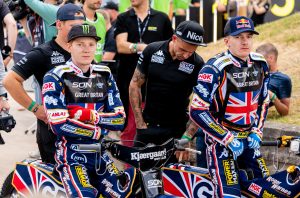 Image courtesy of Steve Hone Photography
Three places are available for the 2023 Grand Prix series and the line-up includes a mix of current, former and potential future GP racers.
Great Britain are represented by Dan Bewley and Robert Lambert, with both hoping to cement their place in the series for next year, and Bewley still very much on a high from his win at Cardiff.
Fellow GP regulars Max Fricke, Anders Thomsen and Jack Holder are also in the field, whilst Holder's elder brother Chris bids to book a return to the series, ten years after he became World Champion.
Other contenders include former Glasgow star and Danish champion Rasmus Jensen, and Poland's Dominik Kubera who won the second round of the national championship on Monday.
Midweek action in Sweden saw Smederna confirm top spot in the league table ahead of the play-offs by winning 51-39 at second placed Lejonen, led as ever by their British duo with Robert Lambert racking up 15 points from six rides, including four wins, and Dan Bewley adding 10+2.
Lambert was the only rider to defeat Bartosz Zmarzlik, who went on to score 17 points for the hosts.
Elsewhere, third placed Vastervik went down 55-35 at Piraterna, and Indianerna beat Dackana 47-43, whilst on Thursday bottom club Masarna ended on a high with only their second win of the season, 42-36 over Piraterna in meeting abandoned due to rain after Heat 13.
Meanwhile in the Under-24 Ekstraliga, the final round of fixtures were affected by the weather, but Leszno moved back to the top with a 50-39 win over Czestochowa whilst their Grand Final opponents Ostrow await their match at Grudziadz.
Elsewhere Gorzow were 49-41 winners at Lublin with Anders Rowe scoring 7+1 from five rides, and Torun v Wroclaw is still to be staged.
This weekend also sees the Ekstraliga play-offs get underway, with Leszno hosting league leaders Lublin on Friday, and the visitors are strong favourites.
Lublin defeated Leszno 58-32 at home earlier in the season along with a 47-43 away win, and the former champions will need to significantly raise the game amidst further uncertainty over the future of captain Piotr Pawlicki, who appears destined for Wroclaw next season.
Wroclaw themselves host Czestochowa on Sunday in an intriguing quarter-final where much could depend on the health of Woffinden and the fitness of Maciej Janowski after their recent problems.
Woffinden's situation is crucial for Wroclaw given his form leading into the play-offs with scores of 17, 18 and 14 in his last three matches, with the continued form of Bewley leading to optimism that they could yet challenge for back-to-back titles.
Meanwhile Sunday's other fixture is also a close one to call, with Torun having home advantage in the first leg against Gorzow, and the two sides finished just two points apart in the regular league table.
Lambert will undoubtedly be a key figure for the home side, whilst the visitors have switched their riding order with Bartosz Zmarzlik moving to No.3 as they look to best cover for the injury absence of Martin Vaculik.
In Division One, the semi-final line-up will be completed with Bydgoszcz already through, whilst on Friday Zielona Gora face a ten-point deficit as they go into their home clash with Lodz. Meanwhile on Sunday Krosno host Landshut and are already 50-40 up from the first leg.
In Division Two, Opole are well placed going into the home leg of their tie with Daugavpils having won 49-41 in Latvia last weekend – and it's an identical position for Poznan, who host Rawicz and also have an eight-point advantage.