EUROPEAN PREVIEW - SGP Gorzow
The 2023 World Championship reaches the halfway stage this weekend with Round 5 of the series taking place at Gorzow.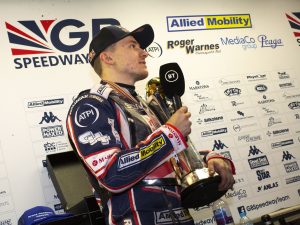 The Edward Jancarz Stadium has been a regular on the GP calendar since 2011, although it did miss out in 2019 and 2021 – but in between, it staged a double header during the Covid pandemic in 2020.
World Champion and series leader Bartosz Zmazlik takes a 12-point lead in the meeting and will naturally be confident on a circuit he called home since childhood, prior to leaving Gorzow for Lublin last winter.
Zmarzlik won at Gorzow as a Wild Card in 2014 at the age of just 19, and also won the first 2020 event – and in ten GP appearances at the venue, he has reached eight Finals and been on the podium five times.
Jack Holder, with 58 points, and Jason Doyle with 54 are the two nearest challengers to Zmarzlik with a number of the top riders from 2022 struggling to recapture their form.
The home men this year are Martin Vaculik and Anders Thomsen, who memorably won at Gorzow in 2022, along with Wild Card Szymon Wozniak who appears in that capacity for a third time.
Robert Lambert is the top-placed British rider in seventh position on 42 points, level with sixth-placed Leon Madsen.
Dan Bewley is just behind on 41, although he is desperate to break a frustrating run of failing to make the Final, whilst Tai Woffinden is ninth on 32 and needs a quick response after disappointing results in Prague and Teterow.
Lambert and Bewley both made the semi-finals in their first GP appearances at Gorzow last season, whilst Woffinden won the meeting in 2017 and has made the Final on four other occasions.
With the GP taking place in Gorzow and the SGP2 round on Friday at the same venue, the PGE Ekstraliga this weekend is truncated with the remaining two matches from the split Round 8 taking place.
Leaders Wroclaw travel to Krosno on Sunday afternoon with Artem Laguta named in their line-up after he suffered an ankle injury at King's Lynn on Monday. Woffinden and Bewley take the No.1 and No.2 positions and the visitors will be favourites with the home side now bottom of the league table, although still very much in touch with Torun, Leszno and Grudziadz.
Torun themselves have the chance to pull clear of the relegation battle as they host Czestochowa on Sunday evening in a meeting featuring four Grand Prix riders – Lambert and Patryk Dudek for the hosts (along with in-form Emil Sayfudtinov), and Madsen and Mikkel Michelsen for the visitors who take a 49-41 advantage into the meeting for the point.
There is a full programme of meetings in Division One, where leaders Zielona Gora are currently six points clear at the top, ahead of their trip to second-placed Bydgoszcz on Sunday, where they are 50-40 ahead for the bonus point.
Rybnik are third, just one point behind Bydgoszcz, and they travel to Gdansk on Saturday, whilst the other two fixtures on Sunday feature a battle of the bottom two between Poznan and Ostrow, and Lodz travel to Germany to meet Landshut. There are no meetings in Division Two this weekend.
In the Polish U24 Ekstraliga, Krosno are four points clear at the top after their 49-41 win at Lublin, whilst Grudziadz maintained the pace with a big 59-30 win over Wroclaw, with Jason Edwards scoring 6+3. Connor Bailey scored one for the visitors.
Gorzow dropped to third after losing 47-43 at Leszno, whilst Leon Flint scored five from three rides for Ostrow in their curtailed 27-21 win over Torun.
In Round 8 of the Swedish Bauhaus-Ligan, Lambert scored 10+1 as Smederna won their top-of-the-table match with Lejonen 49-41 despite an 18-point maximum from Zmarzlik for the visitors.
Vastervik are third after a 49-41 win at Rospiggarna, although Woffinden did not race in that meeting.
Meanwhile Dackarna crashed to a 42-48 home defeat against Piraterna, with Bewley scoring 13 for the hosts including wins in his last four rides.