EUROPEAN PREVIEW - SGP Lublin / Ekstraliga
The hectic Speedway Grand Prix series moves on to Lublin this weekend for another double header taking the 2021 World Championship beyond the halfway mark.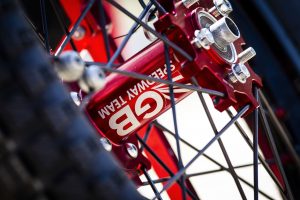 Image courtesy of Taylor Lanning Photography
The ambitious Ekstraliga club have staged a number of big meetings in recent years, including the SEC and the World Under-21 Championship, although when they stepped in to take on the Speedway of Nations last October the event was largely wrecked by the weather.
Lublin have been back in the top flight for three years so the majority of the SGP stars have experience of the circuit, although Robert Lambert has more than most as he helped the club win their back-to-back promotions in 2017/18 before finding his opportunities restricted the following year and moving on as a result.
Lambert goes into Friday's Round 5 in eleventh place in the standings on 27 points after a positive weekend in Wroclaw, and he can certainly put pressure on Jason Doyle, Max Fricke and Martin Vaculik who are all within range ahead of him.
Tai Woffinden, meanwhile, is sixth on 44 points and needs a big weekend to close back in on the leaders with the current top three – Maciej Janowski, Artem Laguta and Bartosz Zmarzlik – covered by just three points.
The remaining PGE Ekstraliga Round 13 fixture takes place between Czestochowa and Torun on Sunday evening, with the visitors still mathematically in danger of being relegated.
Lambert's side were beaten 41-49 at home so need to avoid defeat on the day to add to their total – although even a defeat would be unlikely to leave them in trouble given the fixtures remaining for the bottom two.
And after a 15-point maximum in his last away match at Grudziadz, Lambert this time goes up against GP rivals Fredrik Lindgren and Leon Madsen as his first season with Torun draws towards a conclusion, with rumours of big names incoming should they secure their survival.
There is no Division One action this weekend, but in Division Two Daugavpils defeated Landshut 47-42 in midweek to boost their own play-off hopes.
The Latvian side join the German outfit on 13 points, four ahead of Rszezow who have a match in hand and race at home to leaders Rawicz on Sunday. The other fixture sees second-placed Opole travelling to point-less Wittstock.
Midweek action in Sweden saw Smederna win the top-of-the-table clash in Lejonen 47-43, with Lambert scoring four points from five rides for the hosts. Lejonen also went down 51-39 at Dackarna on Thursday, with Lambert not involved in that meeting.
Elsewhere, Dackarna had been heavily beaten 61-29 at Masarna on Tuesday, but they remain in the top four whilst third placed Vetlanda routed bottom side Piraterna 69-21. The final meeting of the week on Thursday saw Rospiggarna win 49-41 at Indianerna.
Meanwhile GB youngster Leon Flint made his Allsvenskan League debut for Valsarna, scoring a vital seven points from five rides in a 48-42 victory at Vargana.
Flint won his second race to share a 5-1 with Jesse Mustonen over Oscar Holstensson and Jonas Knudsen, and with the scores level at 36-36 he also won Heat 13 ahead of Knudsen and Chris Wennerstrom before the visitors pulled clear for their first win in over 20 years at the venue.
Flint has now headed to Latvia where he, Drew Kemp and Jordan Palin compete in the European Under-19 Final at Riga on Saturday.
The meeting is scheduled to get underway at 2.15pm UK time with Flint and Palin meeting in Heat 1 as they have been drawn at No.1 and No.4 respectively, whilst Kemp goes at No.8. Dan Gilkes will also be travelling as first reserve.