EUROPEAN PREVIEW: SGP Qualification Rounds
Three more Great Britain riders enter the World Championship qualifying process this weekend with Grand Prix Challenge places up for grabs.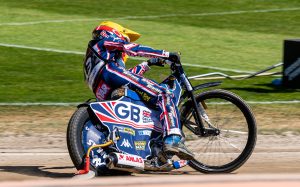 Image courtesy of Steve Hone Photography
Robert Lambert and Dan Bewley both race at Slovakian venue Zarnovica on Saturday, and having been drawn at No.1 and No.3 respectively, they will meet in the very first race.
Their opponents for qualifying places include recent Prague GP winner Martin Vaculik, Rasmus Jensen of Denmark, experienced Swede Jacob Thorssell, and American star Luke Becker.
Meanwhile Chris Harris is drawn at No.16 at Hungarian venue Nagyhalasz, where his competitors include the likes of Brady Kurtz, Dominik Kubera, David Bellego and Vaclav Milik.
Lambert and Bewley shone in Sweden in midweek as they led Smederna to a 54-36 win over Masarna at Estkilstuna.
Lambert scored an 11+1 paid maximum from four rides, whilst Bewley notched 12+1 from five outings, only being denied a full house when Przemyslaw Pawlicki split the GB duo in Heat 7.
Elsewhere, Bartosz Zmarzlik scored a 15-point maximum in Lejonen's 54-36 win over Indianerna, and Adam Ellis notched 4+1 from three starts for Dackarna as they lost 48-42 at Rospiggarna, with Ellis and Kurtz scoring a 5-1 in Heat 1 over Kim Nilsson.
In the 6th round of the Under-24 Esktraliga, Czestochowa were beaten 53-37 at home by Grudziadz, with Jordan Jenkins scoring 3+2 and Sam Hagon zero (from two rides) for the hosts.
Jordan Palin scored one from three rides as Torun were beaten 57-33 at Leszno, whilst Ostrow beat Lublin 52-37.
Round 8 of the PGE Ekstraliga sees the reverse fixtures from last weekend, meaning the aggregate bonus point comes into play for the first time in 2022, and the British riders are all in action on Sunday.
Lambert lines up for Torun as they head to Czestochowa with the two sides level in the league table on six points apiece, and with Torun having won 48-42 at home last week.
The evening fixture is undoubtedly the match of the round as unbeaten Lublin put that record on the line when they travel to Wroclaw, with a big meeting ahead for Tai Woffinden and Bewley, whilst Maciej Janowski is set to race after a crash in Sweden. Lublin have not won in Wroclaw since way back in 1986.
Wroclaw are also on six points, along with Grudziadz, and one of those sides will miss out on the play-offs with Ostrow seemingly certain to be relegated with no score as yet.
Second-placed Leszno open up the weekend schedule against Grudziadz, with the sides missing Piotr Pawlicki and Nicki Pedersen after last weekend's serious crash, whilst the remaining Friday fixture is Ostrow v Gorzow, with 16-year-old Oskar Paluch set to make his debut for the visitors.
Division One leaders Zielona Gora visit Bydgoszcz in a top of the table clash on Sunday, whilst third placed Krosno host Gniezno on Friday.
The other Friday fixture is a mid-table battle between Lodz and Landshut, whilst bottom club Gdansk are away at struggling Rybnik on Sunday.
In Division Two, Ellis lines up for Daugavpils as they face a tough trip to second placed Rawicz on Sunday, whilst leaders Opole take on Tarnow earlier in the day, and Saturday's fixture is Rzeszow v Pila.