EUROPEAN PREVIEW - SGP WARSAW
The Grand Prix series returns to Warsaw this weekend for the first time since 2019 with Bartosz Zmarzlik going into the meeting as series leader.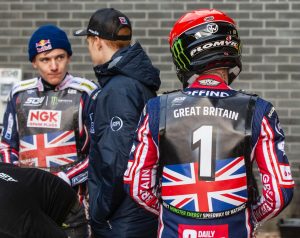 Image courtesy of Taylor Lanning Photography
Zmarzlik won in Croatia a fortnight ago, but has never reached a Final at the PGE Narodowy venue, which has been restored to the calendar after two years out due to the pandemic. Leon Madsen was the last winner at Warsaw three years ago, on what was his full-time debut in the series, on his way to second place in the overall standings.
Tai Woffinden is a double previous winner of this GP, having triumphed in 2016 and 2018, and he is need of major points after picking up just four in Gorican.
Meanwhile Robert Lambert is keen to convert his recent run of semi-final appearances into a first Final, and Dan Bewley will look to build on his solid points haul from the opener. Lambert reached the semis in Warsaw in 2019.
The other previous Warsaw winners are Matej Zagar in the abandoned 2015 event, although the Slovenian is not competing this time around, and Fredrik Lindgren in 2017. No Polish rider has ever won the event, but they do have an extra competitor this weekend with in-form Maksym Drabik taking the Wild Card berth.
Attention then switches to Poznan on Sunday for the FIME European Team Speedway Championship.
Great Britain are represented by Lambert, Bewley, Adam Ellis, Chris Harris and reserve Tom Brennan, and have been drawn in the yellow helmet colour.
They face strong opposition from Denmark, Sweden and Poland, with the Danes including GP trio Madsen, Anders Thomsen and Mikkel Michelsen, whilst Poland track Zmarzlik, Patryk Dudek, Maciej Janowski and Janusz Kolodziej. The Swedes are led by Lindgren and Jacob Thorssell.
Three matches were staged in the Under-24 Ekstraliga this week, and none of them resulted in home victories.
Jordan Palin collected a useful 8+2 from five rides in Torun's 48-42 win at Gorzow, and his second place in Heat 15 secured the visitors' win. Kyle Bickley failed to score from three rides in the same meeting.
There was also an away win for Leszno, 51-39 at Wroclaw, with Jack Smith scoring three points from five rides for the hosts.
Meanwhile Lublin drew 45-45 with Grudziadz, with Australian youngster Fraser Bowes scoring a 15-point maximum.
In the Swedish Bauhas-Ligan, Smederna raced to a 52-38 win at Rospiggarna, with the British riders scoring impressively once again.
Bewley won five races out of six to end with 15 points, whilst Lambert was also paid for 15 as he ended on 12+3, both riders suffering one last place along with their other unbeaten rides.
Elsewhere Ellis made his first appearance for Dackarna with three points from four rides in a 49-41 win over Indianerna, where Janowski scored a 15-point maximum, Vastervik defeated Piraterna 55-35, and the Pirates then responded on Thursday with a 48-42 home win over Masarna.
There is no PGE Ekstraliga action this weekend, but there has been an alteration to the league table following the controversial finale to the Leszno/Gorzow fixture in Round 2.
The meeting had been declared a 45-45 draw after Leszno's Piotr Pawlicki caused Gorzow's Szymon Wozniak to fall at the start of the last lap. The referee allowed the race to continue, and on the final bend Zmarzlik overtook Kolodziej, and Gorzow were given a 4-2 to level the scores with Pawlicki excluded.
But it has now been ruled that the race should have been deemed to have finished at the point of the Pawlicki/Wozniak collision – meaning Zmarzlik's pass on Kolodziej effectively did not happen, even though the earlier incident had been triggered by the Leszno rider.
The race was therefore re-declared as a 3-3 with Kolodziej ahead of Zmarzlik and Wozniak, and that result meant Leszno were 46-44 winners, and are therefore now two points behind leaders Lublin, with Gorzow a further two points behind in third place.
There are four meetings in Division One as all teams catch up to the completion of Round 5, with early leaders Krosno having home matches against Bydgoszcz on Friday and second-placed Zielona Gora on Sunday.
Elsewhere on Sunday, seventh-placed Gniezno host Landshut, whilst Rybnik travel to Bydgoszcz.
Division Two also stages two catch-up matches from Round 1, with bottom club Rzeszow seeking their first points of the season as they host Opole, whilst Pila take on Rawicz.