EUROPEAN PREVIEW: Under-23 Team Final / SGP Torun
The race for FIM World Championship medals reaches a conclusion with the final round of the Grand Prix series in Torun this Saturday.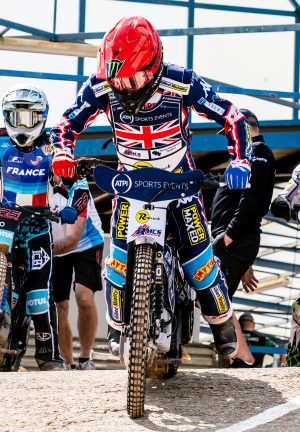 Image courtesy of Steve Hone Photography
The race for FIM World Championship medals reaches a conclusion with the final round of the Grand Prix series in Torun this Saturday.
Whilst Bartosz Zmarzlik clinched the title in Sweden last time out and Leon Madsen is all but mathematically sure of runners-up spot, Great Britain duo Robert Lambert and Dan Bewley are both firmly in the battle for the bronze medal.
And Tai Woffinden also has a chance of third place overall, although he would need a high score with all of the riders in front of him faltering.
After two Finals and a semi-final in the last three GPs, Lambert sits just three points behind third-placed Patryk Dudek heading into the GP on the home track for both riders, whilst Bewley is only four points adrift of Lambert, with Fredrik Lindgren and Maciej Janowski just one behind that – so five riders are covered by only eight points.
Woffinden is on 88, twelve adrift of third place, and his main focus will be on attempting to break back into the top six.
Torun stages a Grand Prix for the 15th time having been a permanent feature on the calendar since 2010, including staging double-headers in the pandemic-hit years of 2020 and 2021.
And this weekend will also the SGP2 champion crowned with the third and final round of the series taking place on Friday.
Mateusz Cierniak should clinch the title having scored a maximum 40 points so far, placing him 12 ahead of Jan Kvech, whilst Benjamin Basso is currently third on 25. It means the Pole will be guaranteed the title if he makes the semi-finals on the night.
Meanwhile Great Britain's Tom Brennan receives a call-up to the meeting as series reserve, along with Australian Kenyan Rew, with Francis Gusts and Gustav Grahn both ruled out due to injury.
After racing for his Championship club Glasgow on Saturday, Brennan will be back in Poland on Sunday as part of the GB team in the European Under-23 Team Final at Tarnow.
Bewley is also included in the side, with the quartet completed by Leon Flint and Drew Kemp, whilst Jason Edwards is named as reserve.
They face opposition from Poland, Sweden and Denmark, with the Poles starting as favourites with a team including Cierniak, outgoing U21 Champion Jakub Miskowiak, Wiktor Lampart – and Dominik Kubera available to come in as reserve!
Olly Allen and Neil Vatcher take charge of GB, whilst Hans Nielsen is team manager for Denmark as he approaches the end of his time as his country's boss. The Danes include former World U21 No.2 Mads Hansen, and current SGP2 high-flyer Kevin Juhl Pedersen.
There will be one more important fixture for Lambert and Bewley next week, as Smederna will travel to Lejonen on Tuesday for the second leg of their play-off Final, which was called off this week.
The Eskilstuna leg did take place, however, and Smederna were held to a narrow 47-42 advantage in a meeting which was completed after heavy rain with two races remaining.
Lambert top scored for Smederna with 12 points from six rides, including three wins, whilst Bewley scored 11+1 also from six – and they now face a tough return fixture at Gislaved.