European Racing Review
Great Britain's Tai Woffinden suffered an injury scare in Wroclaw's Ekstraliga trip to Lublin on Sunday.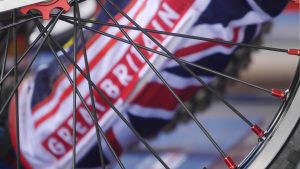 Image courtesy of Darren Bott
The triple World Champion damaged his foot during the pre-match laps, and received treatment back in the pits along with ice during the meeting. He raced on and scored 13+1 from six rides, although Wroclaw were beaten 51-39 by a very solid home side and had to be content with the aggregate bonus point.
Despite the injury, Woffinden was involved in some the best racing in the meeting, coming out on top in a thrilling battle with Matej Zagar in Heat 12, although he was unable to stop Grigory Laguta. The in-form Russian's 15-point maximum was his third successive unbeaten display on his home circuit.
Woffinden said: "I don't know what's going on when I race Lublin. First time I break my back, second time I break my foot in Wroclaw, and it feels exactly the same as when I did it in Wroclaw. I think it's probably broken again. It's actually really strange, when I broke it six or seven weeks ago I could still cycle on my push-bike, and when I ride my speedway bike when I push, it doesn't hurt - but when I walk it, hurts. When I make the foot in (walking) motion, then I have pain, but when I push when I'm cycling on the push-bike, or on the (speedway) bike, then it's okay."
Robert Lambert was back in action on Thursday, just 24 hours after his Speedway Euro Championship triumph, as he and Kacper Woryna led the resistance for Rybnik in a 41-49 home defeat against Czestochowa. Lambert scored nine points from seven rides, losing a potential 5-1 alongside Woryna in Heat 10 when he slowed on the second bend, but he hit back from that with wins in Heats 12 and 14, the latter over Jason Doyle.
Woryna top-scored for Rybnik in that meeting, but Lambert returned to that position the following evening at Zielona Gora, where the home side eased to a 57-33 win with Martin Vaculik scoring a 15-point maximum. Lambert impressed with 9+1 from five rides, appearing for the first time in Heat 5 to defeat Michael Jepsen Jensen and Piotr Protasiewicz, and he added a further success in Heat 12 before partnering Adrian Miedzinski to a 5-1 in a bizarre Heat 14 when the home riders hit trouble.
Rybnik are still being kept off the bottom of the table by Gorzow, who were beaten 55-35 at leaders Leszno, for whom Emil Sayfutdinov (13+1) and Bartosz Smektala (13) were in dominant form. The Bulls have won each of their opening seven fixtures, whilst Gorzow have lost all six of theirs and are a massive ten points adrift of the play-off places.
Zielona Gora are second ahead of Lublin after both won at home over the weekend, whilst Czestochowa hold fourth place ahead of Wroclaw after being held to a draw in a dramatic encounter at Grudziadz on Sunday. The home side fought back from six points down to go ahead in Heat 11, but the scores were levelled again with one race to go as visiting reserve Jakub Miskowiak completed a sensational display (12) with a win over Nicki Pedersen.
Grudziadz looked set to snatch it in the decider as Artem Laguta and Kenneth Bjerre made the start, but Bjerre – who had previously only dropped one point - was relegated to the back by Doyle and Fredrik Lindgren as Czestochowa salvaged a draw, along with a comfortable bonus point. They are back in action once again on Tuesday with a re-arranged home fixture against leaders Leszno, where a home win would take them up into second place.
There are now two British riders competing in Division Two, and Adam Ellis enjoyed a superb opening meeting for Rzeszow in their 59-31 win over Opole. The Swindon man raced to a brilliant 15-point maximum against a visiting side including former GP winner Bjarne Pedersen.
Ellis's Robins team-mate Anders Rowe is also in Poland, having joined the Leszno roster, which has led to him being placed at nearby Rawicz. However his debut on Saturday didn't go according to plan as Rowe was beset by a host of issues limiting him to one point from four rides in a heavy 64-26 defeat at Krosno.
Elsewhere, youngster Tom Brennan is through to the European Under-21 Final as he looks to match Lambert's senior achievements. Brennan scored ten points to finish fourth at Divisov on Saturday, comfortably going through as one of three riders on that total.
Jan Kvech and Wiktor Lampart, both likely title contenders, finished first and second, and were joined on the rostrum by Ukranian rider Marko Levishyn. Leon Flint suffered problems in practice and missed out, scoring four points, which was two adrift of the vital ninth place.