EUROPEAN REPORT
World Champion Bartosz Zmarzlik strengthened his grip on this year's title race with a third win from five 2023 GPs in Gorzow on Saturday. Zmarzlik finished third in his first ride but then dominated the remainder of the meeting – although there was plenty of drama in the Final.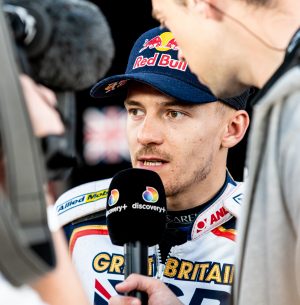 At the first time of asking, Zmarzlik made the start from the inside only for Jason Doyle and Fredrik Lindgren to tangle, with the Swede going down.
With all four riders taking part in the re-run, Doyle made the gate before Leon Madsen swept around the outside to take the lead. Doyle was shuffled to the back at the start of lap two, and in another close call with Lindgren, this time it was Doyle who went down – and for the second time in a Final this season, Doyle was excluded.
The second re-run was the most spectacular race of the night as Zmarzlik produced a memorable ride to first pass Lindgren and then reel in Madsen, finally diving inside him going into the last bend and taking the Dane wide before taking the chequered flag in front of the exuberant Polish crowd.
For the British contingent, it was a night which held much promise for Robert Lambert, who was highly impressive in the qualifiers as he won three races to finish on eleven points.
But his meeting came to an end in the semi-final where Lindgren took the victory and Madsen came through on a tight first lap leaving both Lambert and Tai Woffinden frustrated.
Woffinden had worked his way into the semis with eight points courtesy of four second places, and that was enough to edge out Dan Bewley, who missed out on the semis for the first time this season despite scoring five points from his first two rides.
Zmarzlik now holds a massive 21-point advantage at the halfway stage of the series with Jack Holder, Lindgren and Doyle all separated by one point. Lambert is the top British rider overall on 54 points, with Bewley eighth on 49 and Woffinden ninth on 41.
In the PGE Ekstraliga, the remaining two Round 8 matches were completed with leaders Wroclaw making it ten wins out of ten with a comfortable 50-40 victory at Krosno, which also saw them take the bonus point.
Woffinden top scored for the visitors with 11+1 from five rides, with Bewley adding a solid 8+1 on a day where all the Wroclaw top five put in strong displays, whilst Doyle (11+1) and Vaclav Milik (12) dominated the home side's scoring.
It was a much closer contest at Torun, with the home side edged out 44-46 by Czestochowa, who also took three points from the meeting as Lambert hit trouble after winning his first three rides.
The GB star was caught out by the track on turn one in Heat 13 and was excluded – and then in Heat 4 he held second place before suffering mechanical trouble, leading to a 5-1 from Madsen and Kacper Woryna.
That put Czestochowa four points up, and although Emil Sayfutdinov won the decider, Patryk Dudek was unable to get on terms with Mikkel Michelsen as the visitors held on for a win to take them back into third place in the standings.
In Division One, Zielona Gora are now seven points clear at the top after a dramatic 47-43 away win at Bydgozcz which saw them lose Luke Becker to injury but then recover from an eight-point deficit after Heat 10 to still take victory.
There were three crucial 5-1s in the last five races for Falubaz, for whom Przemyslaw Pawlicki piled up 16 points and Krzysztof Buczkowski added 13+2, and they combined over Mateusz Szczepaniak and Wiktor Przyjemski for a maximum in the decider.
Rybnik are up to second place after winning 50-40 at Gdansk, led by an impressive 12+2 haul from Patrick Hansen with Matej Zagar adding 11+2.
Landshut are fourth after defeating Lodz 49-40, although they missed out on the bonus point by a solitary point. Norick Blodorn crashed out for the home side but Kim Nilsson scored a 13+2 paid maximum, whilst Tom Brennan took two rides and scored 1+1 for the visitors.
In the battle at the bottom, Poznan edged out Ostrow 46-44 with a last heat 4-2 leaving the visitors bottom of the table and currently facing the possibility of a second successive relegation – although they do have matches in hand on their rivals.