EUROPEAN REPORT - SEC / PGE Ekstraliga Grand Final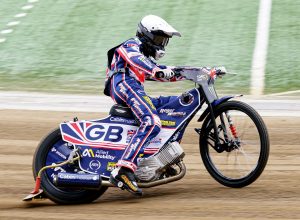 Image courtesy of Steve Hone Photography
Mikkel Michelsen clinched the Speedway Euro Championship on a rainy night in Pardubice, and in doing so added his name to the list of confirmed Grand Prix starters for next season.
Michelsen led Leon Madsen by eight points heading into the meeting and so was always clear favourite, but the fourth round of the series did not start in ideal fashion as he was brought down heavily by Dimitri Berge in his first ride.
However, he recovered to post the points he required to win the series in Heat 11 when he passed Grzegorz Zengota, and Michelsen then just had to wait for one more race to ensure that a result was to be achieved on the night with conditions worsening due to rain.
In the event, the meeting was abandoned after Heat 16 with Janusz Kolodziej the winner on eleven points ahead of Dominik Kubera and Leon Madsen.
Michelsen won the series, becoming the first-ever treble champion in the process, by eight points from Madsen with Kolodziej completing the top three, whilst Andzejs Lebedevs and Patryk Dudek completed the qualifiers for 2024.
Great Britain's Adam Ellis scored four points in Pardubice to end on a total of 22, which placed him eleventh – doubling his score from 2022 when he scored just eleven from four rounds, and finished 17th overall.
Lublin were crowned PGE Ekstraliga champions for the second successive season with an emphatic aggregate win over injury-hit Wroclaw in the Final.
The visitors had won 51-39 on their own circuit one week earlier, but they added a 55-35 victory at the Olympic Stadium was the hosts were beset by further problems on the day.
With no Maciej Janowski from the start, Tai Woffinden was pressed back into service just three weeks of after his Cardiff crash – but after winning his opening ride and then adding a paid second, there was more trouble in Heat 7 when he clipped the rear wheel of Bartosz Banbor on the back straight and was thrown heavily off his machine.
Woffinden suffered concussion to add to his existing hand injury and was ruled out of the remainder of the meeting, and Artem Laguta was also withdraw after three rides citing a broken hand from a motocross accident.
It all made for a one-sided Final in what would have been a classic clash with both sides at full-strength, but as it was, Lublin coasted to victory and were able to rest their big guns in the closing races.
Dominik Kubera scored a paid maximum (11+1) with Jarek Hampel adding 10+1, whilst Piotr Pawlicki scored 10+2 for Wroclaw, and Dan Bewley added nine including a win in his last ride. Connor Bailey was named in the side but did not take a ride.
Meanwhile Torun clinched the bronze medal with Robert Lambert hitting double figures in Czestochowa, who were held to a 46-44 win in the second leg of the third place play off.
That gave Torun an eight-point aggregate win, some consolation for their play-off surrender although a statistical quirk is that they only actually won one match during the play-off phase.
Michelsen led the scoring for Czestochowa with 12+1 whilst Emil Sayfutdinov top-scored for Torun with 10+1 and Lambert won two races to end on 10.
The lower leagues in Poland will be completed over the next fortnight, so the other major speedway action on Sunday was the 75th running of the Czech Golden Helmet in Pardubice, with Finland's Timo Lahti the surprise winner as he overtook Jakub Jamrog in the Final.
Jason Doyle had suffered a flat tyre earlier in the race, ending his hopes of another victory, whilst Ellis worked his way through his quarter-final group and although he went out of contention to win the meeting in the semi-finals, he did win the consolation Final ahead of Kevin Wolbert, Matej Zagar, Jaimon Lidsey, Bartosz Smektala and Lebedevs.
The previous day saw the Golden Band take place, which was won by Daniel Klima with Leon Flint eliminated in the semi-finals.
And also on Sunday, Great Britain finished third in the FIM Long Track of Nations at Roden in a meeting heavily delayed due to track conditions.
The GB trio of Chris Harris, Zach Wajtknecht and Andrew Appleton overcame Finland in the B Final, whilst the Netherlands were crowned champions on their home track with Romano Hummel dominating the meeting, and they defeated Germany in the A Final.