EUROPEAN REPORT - SEC Round 1
Great Britain rider Adam Ellis won the first race of the 2023 Speedway Euro Championship series in Czestochowa on Saturday.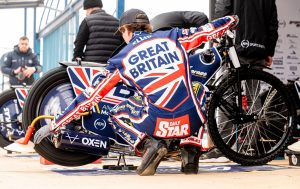 Image courtesy of Steve Hone Photography
Racing in the competition for a second season, Ellis made the perfect start with a super move from the outside in Heat 1 enabling him to get the better of Maksym Drabik, Niels-Kristian Iversen and Vaclav Milik.
Ellis was very much on the pace for the remainder of the meeting, and was amongst the early leaders after two races when he added a third place in Heat 8 after another good gate when he was then passed by Andzejs Lebedevs.
But two last places then hampered his challenge as he lost out to Dimitri Berge and Timo Lahti in Heat 12 before being shuffled back in Heat 16 as Leon Madsen battled with Kai Huckenbeck for the lead.
Ellis finished his meeting with third place in Heat 20 ahead of former World No.2 Patryk Dudek, and his five-point total in no way reflected just how competitive his performance had been.
Defending champion Madsen recovered from finishing third in his opening ride to go unbeaten for the remainder of the evening and take victory, ahead of his Czestochowa team-mate Mikkel Michelsen who went too wide at the end of the second lap in the Final to allow his fellow Dane through.
Szymon Wozniak prevented a clean sweep of home riders on the rostrum by taking third place ahead of Kacper Woryna. The series continues at Gustrow on August 5.
In Round 10 of the PGE Ekstraliga, Wroclaw marched on at the top with a 47-43 win at Gorzow, taking all three points from the meeting.
Both Anders Thomsen and Martin Vaculik were in strong form for the hosts but the key result came in Heat 13 when Artem Laguta and Maciej Janowski took a 5-1 over Thomsen, putting Wroclaw eight points up.
Janowski (11+1) and Laguta (10+1) topped the scorechart whilst Dan Bewley scored 8+1 from five rides and Tai Woffinden added 5+1 from four.
Lublin remain in second place after a 52-38 win at injury-hit Leszno, whose hopes of including Janusz Kolodziej after rib damage were dashed in the build-up to the meeting.
Bartosz Smektala (14+1) and Jaimon Lidsey (13+3) dominated the hosts' scoring whilst Bartosz Zmarzlik scored a 12-point maximum for Lublin.
Elsewhere, Grudziadz climbed off the foot of the table with a 50-40 win over Torun, who did hang on for the bonus point as Emil Sayfutdinov and Robert Lambert collected a 4-2 in Heat 15.
Sayfutdinov scored 16 and Lambert 11+2 for the visitors, but Grudziadz produced a more solid display overall and now leapfrog Krosno, whose home match with Czestochowa was postponed due to rain.
In Division One, Zielona Gora were easy 62-28 winners over Landshut with Rohan Tungate scoring a four-ride paid maximum and the league leaders were able to fully utilise their squad.
Elsewhere Bydgoszcz were beaten 47-43 in Gdansk despite a brilliant 15-point maximum from Wiktor Przyjemski, as Daniel Kaczmarek won a last-heat decider for the hosts.
And it was also close at Rynbik, who beat Poznan 48-42 with a 4-2 in the last race to take all three points with Jan Kvech starring at No.8 with 12+1. The result leaves them third, just one point behind Bydgoszcz, whilst Poznan remain bottom on the same points as Lodz and Ostrow but having raced more meetings.
Ellis put on a great performance in the big match in Division Two as Opole and Rzeszow fought out a 45-45 draw.
He won his first four rides for the home side before finishing third in Heat 15 as team-mate Oscar Polis took the win, with the Opole pairing split by Jacob Thorssell, as Ellis finished with a very impressive 13 points.
Sam Masters and the returning Josh Pickering sealed a 46-44 win for Gniezno at bottom club Tarnow, whilst Steve Worrall scored 10+1 from five rides in Daugavpils' emphatic 57-33 away victory at Pila, for whom Dan Gilkes scored two points.