EUROPEAN REPORT - SGP Challenge
Robert Lambert will have to wait to secure his position in next year's World Championship after finishing fourth in the GP Challenge at Gislaved last Saturday.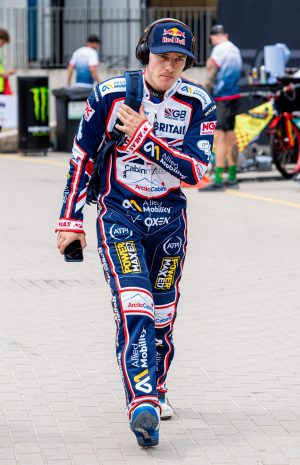 Image courtesy of Steve Hone Photography
Lambert is very well placed in more than one sense to qualify, as he is within range of the top six in the 2023 standings, and two members of the current top six – Jason Doyle and Martin Vaculik – were on the podium in Sweden, so his place should be relatively secure if not officially confirmed as yet.
He was a late call-up to the event on his former home circuit, where he is still the track record holder, with Jack Holder ruled out due to injury.
And early on it looked to be going Lambert's way as he won his first two rides to join Szymon Wozniak at the top of the leaderboard.
But there was drama in Heat 11 as Lambert was controversially excluded after a clash with Piotr Pawlicki on turns three and four, with Lambert making what appeared a firm pass which left the Pole racing room.
However, when Pawlicki got into difficulty and crashed on the outside, it was Lambert who was ruled the cause, and that put him up against it.
He threw everything at Luke Becker in Heat 16 without being able to find a way through, whilst in Heat 18 Jan Kvech produced a brilliant ride to go past Lambert on the last lap.
That point dropped wasn't costly in the end because Wozniak burst from fourth to first off turn two in Heat 20 to move on to 12 points, two ahead of Lambert and Kvech with Lambert placed higher on countback.
Doyle beat Vaculik in a run-off after both finished on 13, whilst Wozniak will now be a full-time Grand Prix rider for the first time thanks to his third place overall.
There was play-off action in Poland on Sunday where the main interest surrounded which club would take the fourth spot in the semi-finals.
Wroclaw, Lublin and Czestochowa had all won the away legs of their quarter-final ties making them firm favourites to proceed, and all three duly finished the job at home.
However, the battle to be the best of the 'losers' went down to the closing stages, with Leszno the team to effectively be eliminated first as they lost 53-37 at Wroclaw, going down by 22 points on aggregate.
Dan Bewley was in fine form for the hosts as he racked up 13 points from five rides, including four race wins, whilst Tai Woffinden recovered from a last place in his opening outing to total 9+2 from his last four.
That helped Wroclaw to a comfortable win even with Pawlicki enduring a tough meeting on three points, whilst Janusz Kolodziej completed another brilliant season for Leszno with 15 points from six rides.
Gorzow always faced a tough test against Czestochowa without the injured Anders Thomsen, but they put up a brave fight before going down 50-40 on the day, and by 18 on aggregate.
Leon Madsen scored 14 for the home side and Mikkel Michelsen added 11+2, whilst Martin Vaculik racked up 15 from six for the visitors – with Wozniak winning his first two rides but then fading.
And so the 'lucky losers' were Torun, who held Lublin to a 49-41 victory on the day and a 13-point margin overall, with two early race wins for Lambert proving important as they initially threatened a huge upset.
The GB star finished with 9+1, backing up Pawel Przedpelski on 12 even though Emil Sayfutdinov was on an unusually low seven-point score.
After nine races Leszno led 30-24 on the day, causing Bartosz Zmarzlik to appear as a tactical substitute, and the home side gradually turned the screw but Torun did enough to remain in the play-offs.
Their reward for progression is a semi-final tie with Wroclaw – meaning Woffinden and Bewley go up against Lambert – whilst Czestochowa will face Lublin.
The Division One play-offs got underway with a huge away victory for Zielona Gora against an under-strength Gdansk side who struggled in the absence of Nicolai Klindt.
The final score was 60-30 making progression to the semi-finals little more than a formality, with Przemyslaw Pawlicki, Luke Becker, Rasmus Jensen and Krzysztof Buczkowski all in double figures.
The closest match of the play-offs was at Landshut, as they were edged out 45-44 by Bydgoszcz for whom youngster Wiktor Przyjemski starred with 11+2. Kim Nilsson scored 14+2 for the German club and Dimitri Berge added 14+1, with Norick Blodorn on 11+1 but they lacked support from elsewhere.
Meanwhile Rybnik defeated Ostrow 51-39 to leave that tie nicely posted ahead of the second leg, with Patrick Hansen scoring 13 points for the home side.
In Division Two, the league leaders Opole were held 45-45 by Pila with Adam Ellis top scoring on 13+1 from five rides, whilst the visitors fought back from 10 points down to force a draw. Dan Gilkes scored 5+1 from three rides.
Elsewhere Rzeszow hammered troubled Rawicz 70-19, and both they and Gniezno could take over at the top of the table ahead of the play-offs.